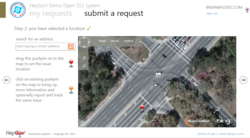 Microsoft is very excited to have two experienced partners like ISC and Tribridge coming together to build a next generation 311 call center solution and customer portal based on Dynamics CRM
Tallahassee, FL (PRWEB) May 18, 2011
Today ISC and Tribridge, two leading Microsoft Gold Partners, announce a new partnership to provide a complete 311 government call center solution for ISC's HeyGov! product and Microsoft Dynamics CRM. Through this partnership, ISC and Tribridge have developed a world-class 311 call center solution, with a web-based citizen service portal, mobile apps, telephony integration and more for government customers in the United States.
Tribridge, two-time Worldwide Microsoft Dynamics Partner of the Year, led the effort to enhance Microsoft Dynamics CRM to support the needs of a 311 call center. These include customizable citizen request screens, the addition of pre-packaged call scripts, telephony connectors, a robust knowledge base, connectors to social networking sites, and dashboard analytics. With a staff of 300+ employees and a history of success in public sector CRM deployments, Tribridge is equipped to handle cloud subscription and onsite implementations of Dynamics CRM, as well as workflow integration between departmental systems like Hansen, SAP, CityWorks, and others.
ISC will continue to support and enhance its award-winning HeyGov! cloud-hosted software-as-a-service product. HeyGov! includes a map-centric public facing customer service portal, hosted in Microsoft's Windows Azure, for citizens to visualize and analyze open and closed 311 service requests. The web-based HeyGov! portal also allows citizens to submit a service request to a city by dragging and dropping a pushpin on the map. In addition to the web-based citizen portal, HeyGov! includes mobile apps for the Windows Phone, iPhone, Android and BlackBerry that can be branded for a government. ISC also provides the GIS, mapping and routing integration for the 311 call center using ISC's MapDotNet UX GIS product.
"Microsoft is very excited to have two experienced partners like ISC and Tribridge coming together to build a next generation 311 call center solution and customer portal based on Dynamics CRM," says Amir Capriles, Dynamics Sr. Director US Public Sector at Microsoft. "ISC with their expertise in geospatial software development combined with Tribridge's ability to deliver highly customized Dynamics CRM solutions will enable governments to have more efficient communication with their citizens, saving time and reducing costs for service delivery," adds Capriles.
"Response has been overwhelming since first sharing the news with our government customers in April during Microsoft's annual Convergence customer conference," says Josh Jaquish, Director of Public Sector at Tribridge. "People absolutely love the idea of combining these two leading cloud applications to improve citizen services".
About ISC
Founded in 1989, ISC is a worldwide leader in software that combines today's latest advances in web-based, consumer mapping with powerful enterprise GIS (geographic information systems). The company offers a wide range of products and services designed to empower people through great geospatial software. http://www.heygov.com
About Tribridge
Founded in 1998, Tribridge is a national IT services and business consultancy dedicated to helping customers become more productive, profitable, competitive and secure. From software selection and implementation to technology infrastructure design and support, Tribridge's 300 professionals leverage a unique combination of industry expertise, technical proficiency and proven service methodology to create an exceptional customer experience and promote a solid return on IT investments.
Tribridge serves more than 2,500 customers throughout the United States and has been formally recognized by top companies like Microsoft as a worldwide leader in enterprise resource planning (ERP), customer relationship management (CRM), Cloud Computing and other web-based solutions and services. http://www.tribridge.com.
###