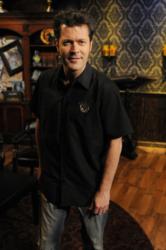 Comedian And Host Of "That Metal Show" Don Jamieson To Join Bret On Board
Detroit, MI (PRWEB) May 17, 2011
Bret Michaels made his first of many guest announcements to come in the following months. Over the weekend, Bret confirmed that comedian Don Jamieson will be joining the roster of performers aboard the Bret Michaels Super Cruise, sailing from Miami to Cozumel, Mexico on November 10, 2011.
Don currently co-hosts VH1 Classic's hit heavy metal talk show "That Metal Show" which was dubbed by Rolling Stone Magazine as one of the 50 Best Reasons to Watch TV. He has won an Emmy for his comedic efforts on HBO's "Inside the NFL" and his recent comedy album "Live and Hilarious" debuted in the top 10 on the Billboard Comedy Chart.
Don will be performing a minimum of two stand up routines on board the Carnival Destiny. He is the first of many acts that Bret Michaels will be announcing in the coming months. Stay tuned as the names of bands and other performers that will join him on the Bret Michaels Super Cruise are released.
For booking information call 1-800-265-0818 ext. 3 or email info(at)bretmichaelscruise(dot)com. For the most up to date information regarding the Bret Michaels Cruise visit http://www.bretmichaelscruise.com! Video of Bret Michaels talking about the cruise can be seen at http://www.youtube.com/watch?v=X_xrDK84reM. Follow us on Twitter @bretscruise and on Facebook "Bret Michaels Cruise 2011".
About Bret Michaels:
Bret Michaels, is a legendary singer/songwriter and reality TV star (Reigning Champ of Celebrity Apprentice 3) and can be seen this fall starring in his new reality show, "Bret Michaels: Life as I Know It". His current album "Custom Built" debuted on July 6th at #1 on the hard rock and independent charts. As front man for the legendary rock band Poison, Michaels has sold 25 million records and scored an amazing 15 chartbusting Top 40 singles including "Talk Dirty to Me," "Something to Believe In," "Nothing but a Good Time" and the timeless #1 smash "Every Rose Has its Thorn." For additional information visit http://www.bretmichaels.com
About Carnival Destiny:
Carnival Destiny is a remarkable member of Carnival Cruise Line's magnificent modern cruise ship fleet. Longer than three football fields combined, this massive "Fun Ship" is truly a destination in itself, with amenities and activities for the entire family to enjoy. Incredible features include 4 spacious swimming pools, a waterslide, world-class dining options, several themed bars and lounges, specially restaurants, night clubs, the best in live entertainment, as well as the opulent Spa Carnival and Fitness Center, for the ultimate in total body rejuvenation and relaxation.
About Shoreline Records Detroit, Donwell, & Shoreline Charters & Tours Inc.:
Shoreline Records Detroit and Donwell have collectively been producing live entertainment offerings worldwide for well over 25 years. Over a million guests have enjoyed our collective events since our inception. Shoreline Charters & Tours Inc. is a family operated, full service travel-company that has been servicing clients worldwide since 1963.
###