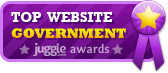 The popularity within our site changes in accordance with seasonal demands. If it is tax time, the finance pages are the most used.
(PRWEB) May 18, 2011
Awarded for its creation of powerful community networks and relentless efforts toward stimulating local businesses, Hartford.gov has been recognized as a 2011 Top Local Government Website Award recipient by online encyclopedia and reference resource Juggle.com.
This year's recipients applied innovative Web technology in order to provide citizens with an overview of local programs and businesses within the community. Hartford.gov is one of several top notch Local Government portals providing easy access to usable information in order to strengthen the local community.
According to Sarah Barr, director of Communications for the City of Hartford, "The popularity within our site changes in accordance with seasonal demands. If it is tax time, the finance pages are the most used. If it is back to school, hartford.gov is the go-to portal to get to our school system's website. We highlight parking bans, so if there is a snowstorm, we are an outlet for that information as well. During this past summer, it was the Hartford 375 events and our summer recreational offerings."
Award finalists offer an array of features and functionality that cause them to surpass websites in their class. The Juggle.com government awards editors hand-selected this year's Top Local Government Award recipients by evaluating a variety of site features and functionality, including usability, timely content, access to e- government services and technological innovation.
"We look to expand upon our interactive services. Right now, for instance, users can watch our government cable access television channel via the website. However, we'd like to add an "on demand" element to that. More exciting features will be added as we finish our migration to sharepoint and increase server capacity," noted Barr.
Award recipients receive a spotlight page on Juggle.com that includes an interview with one of the individuals responsible for maintaining or managing each website. For Hartford's spotlight, visit http://www.juggle.com/hartford-connecticut-top-city-government-website. Based in Belleville, Illinois, Juggle builds and curates websites with the single objective of refining what the internet was built for: quality, quantity and accessibility of information to the public. Juggle's mission is simple, to create compelling websites such as MensFormalShoes.net or LaserPrinters.com that engage users with quality content and features. For more information on Juggle and other topics, visit juggle.com/about-juggle.
###