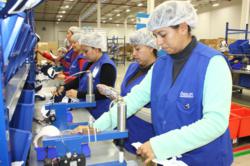 Tijuana, Mexico (PRWEB) May 17, 2011
The Tijuana Economic Development Council (Tijuana EDC) recently published a White Paper that highlights an annual growth of 8.7% in employment of the Medical Device sector since 2004, reaching over 30,000 workers, concentrated in 40 medical manufacturing companies, such as Care Fusion, Medtronic, DJO Global and GreatBatch among others. This number makes Tijuana the premier manufacturing destination for the medical Device sector, outpacing the Minneapolis / Saint Paul metro region and more than double of the entire country of Costa Rica.
Among Tijuana's advantages is a well experienced base of over 180,000 skilled manufacturing workers, trained in lean manufacturing and high quality standards. Companies in the medical device sector manufacture high tech products such as electronic thermometers, hemodialysis components, infusion pumps, IV administration sets, lenses, nebulizers, orthopedic braces, oximeters, pacemakers, stents, surgical kits and equipment, urinary catheters, wheelchairs, x-ray film marking system among many others.
Nearly all medical device manufacturing companies operate under FDA or CE marking regulatory requirements. In addition, over 90% of all manufacturing firms with 250+ employees are certified under ISO 13485, ISO 9000 or other world-class quality or management standards.
With over 40 years of export manufacturing experience Tijuana offers a near-shore solution for those companies looking to be competitive in the global market. While many regions market themselves as possible locations for globally-expanding companies, no other city in the world offers the unique combination of key competitive factors such as:

Large base of 40+ existing medical device manufacturers; and a burgeoning medical device cluster.
A "next-door", near-shore location with quick logistical access to the West Coast of the U.S. and major international seaports and airports measured in hours – not weeks;
A trained, quality-conscious and highly bilingual workforce;
Strong intellectual property-rights protections guaranteed via NAFTA and TRIPS; and
Lower-cost, just-in-time production capabilities and experience.
The reveling and educational paper is free and available for download at the following URL
Companies interested in learning more about the opportunities of manufacturing in Tijuana, Mexico, should contact the Tijuana EDC, and schedule a live web-seminar or industrial tour.
About Tijuana EDC: The Tijuana EDC is a nonprofit corporation dedicated to help companies to establish successful manufacturing operations in Mexico and to take advantage of business opportunities of vertical integration introducing qualified Mexican suppliers and accessing new markets. For more information on how to take advantage of these opportunities contact the Tijuana EDC at contact(at)tijuana-mex(dot)com or visit their website http://www.tijuana-edc.com/english/
###