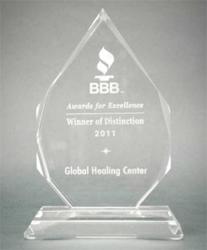 We work hard to provide top notch service to our customers and clients and it is an honor to be recognized by the BBB for our efforts.

- Dr. Edward Group III
(PRWEB) May 17, 2011
Global Healing Center received the Winner of Distinction Award at the Better Business Bureau Awards for Excellence luncheon held Wednesday, May 4 at the InterContinental Houston Near the Galleria. This was the fifth year in a row that Global Healing Center was recognized by the BBB for service excellence.
The BBB Awards for Excellence recognizes businesses and non-profits for their achievements and commitment to overall excellence and quality in the workplace. Proceeds from the event help fund the BBB Education Foundation which educates consumers about scams and fraudulent business practices in the Greater Houston area.
When asked what it means to Global Healing Center to receive this recognition, President, Dr. Edward F. Group, states "We work hard to provide top notch service to our customers and clients and it is an honor to be recognized by the BBB for our efforts."
For over a decade, Global Healing Center has specialized in educating people in understanding what causes poor health, as well as help them achieve their health goals through proper nutrition and natural health supplements. Global Healing Center has a wide variety of products and home health equipment, to help you in all aspects of your life, including air purifiers, water purifiers, health supplements, cleansing products, radiation protectors, books and DVD's.
With an highly-trained, BBB recognized staff, Global Healing Center gives you all the tools you need to live a long, healthy, happy life. You can visit Global Healing Center at http://www.GlobalHealingCenter.com.
###