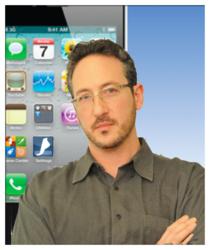 We always knew that promoting foot health was important, we are just thrilled that the iPhone Platform has allowed us to reached so many people so quickly.
Great Neck, NY (PRWEB) May 17, 2011
iPodaitrist was uploaded to the Apple App store just three weeks ago and has been received with tremendous interest. iPodiatrist the only App in the App store stands alone, as the only Medical App "solely" dedicated to foot education and global foot health. The App brings with it over 20 high quality videos on conditions ranging from corns and callouses to major foot trauma. In addition it has comprehensive background text on over 50 podiatric medical conditions, in easy to read terms. iPodiatrist has also been a portal to an expert in the field, Dr. Alec Hochstein who up to now has answered every inquiry personally.
"It has become somewhat of a part time job for me just keeping up with the questions and concerns of patients from all over the world," Dr. Hochstein who practices in Great Neck, NY, does his best to answer the concerns of patients and dispel myths, but ultimately refers each and every inquiry to a qualified podiatric physician in that persons area. "I certainly can not treat every person who contacts me and that is certainly not my goal or intention. I want my colleagues to benefit from the power of the App and so I am happy to refer these potential patients."
Some practitioners have reached out from as far away as Germany and Australia asking to be a referral for patients in their cities, some have even offered to pay to be listed as preferred providers. "I want to keep an even playing field and it is not possible for me to assess the education and talents of every Doctor who wishes to be listed. " says Dr. Hochstein. "I refer the patient to the doctor and the relationship starts when they make contact with each other. I just hope that both the patient and the providers enter into a mutually beneficial relationship and I will be proud if I was able to play a small role in that"
So far it seems that the technology is being accepted widely and we are only in its infancy. The potential to make connections through the power of a mobile device is limitless. More people have mobile devices than they have personal computers, and cars. Mobile platforms give the end user the ability to reach out when they want to. This may be standing on line at the grocery store, or waiting at the bus stop for their children. It is always available and the doctor is always in. The potential for physician education is also amazing. Through its use of video and social networking iPodiatrist has the ability to broadcast world wide any number of lectures, practice tips, blog entries as well as spotlight companies that are supportive of both podiatric medicine and healthcare in general. Many forward thinking companies have already contacted and obtained premium banner ads within the iPodiatrist App. "These partner companies will see tremendous loyalty from members of the profession, not only because they are supportive of technologies that support the profession, but because they are hand picked as those companies whose quality of product and dedication to the profession is widely accepted.
The mobile Podiatric Database is currently in the works for future release. " We would like to have a comprehensive listing of all podiatric physicians, organized by state, to make it even easier for patients to find and connect with qualified podiatric physicians." says Dr. Hochstein. Through the App it is easy to become listed, while mobile or by entering HERE.
For more information: http://www.iPodiatrist.net
###