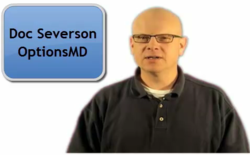 Having been through two recessions in the past ten years, we're reminded that markets don't always move up.
Bingham Farms, MI (PRWEB) May 17, 2011
For millions of traders and investors, the severe market correction that began in December 2007 created a frightening awakening for people nearing retirement and others who counted on their investment returns to supplement their income.
Despite the recent bull-run that began in March 2009, several market pundits are suggesting another decline is imminent and many investors are fearful that another market crash may squash any hopes for financial independence.
Doc Severson of OptionsMD.com (a division of Trading Concepts, Inc.) suggests that proper planning can make all the difference.
"Having been through two recessions in the past ten years," says Doc Severson, "we're reminded that markets don't always move straight up."
"Most of us at one point or another have been told to 'diversify', but what does that mean? Generally, in today's language, it means diversifying between stocks, bonds, mutual funds and other fixed-income instruments. But the real problem is that almost no one really knows how to do this … no one," states Doc Severson.
"Real diversification has more to do with diversifying against the DIRECTION of the market than it does with the financial instruments," says Severson.
Though Severson's comments offer an opposing view of what's commonly preached in many financial education programs, his comments bring new possibilities as many folks reflect back on their once-thought diversified accounts that lost as much as 50% of their original values durin the crash.
"You see, most individual stock traders don't know how to build income, nor do they see a need for it. The dream they've been sold is that they can ride the Market up and build their portfolio to their 'number' so that they can magically take their funds out of their accounts and suddenly become financially independent," says Severson.
"If your primary strategy is to time the market by buying low and selling high, and selling out at the very top, be aware that is a very, very difficult game," comments Severson, "and you're probably not managing your risk as well as you need to."
"Like most people, you're betting the farm that you'll have enough of a lump sum someday to turn into an income source when, instead, you could be earning yourself a monthly income right now."
"Markets trade sideways 80% of the time, and armed with that information, you should know that the real key to building wealth is to first build non-directional strategies for making money to take advantage of these periods," adds Severson, "then, you build your portfolio with semi-directional strategies and finally directional strategies. It's only now that your portfolio is established to make money in all market directions."
This multi-directional approach is detailed further in what he calls his Income Pyramid. Doc suggests that though this type of approach can be accomplished using a variety of different financial instruments, his experience has proven that using Options trading strategies yield the best results for the least amount of risk.
About Doc Severson: Doc Severson has been investing in the market since 1996 and has been a full-time Options trader since 2003. In addition to his trading, he has been quietly mentoring students from around the world on how to create a consistent income trading options regardless of market direction. With growing demands from retirees and investors to learn his approach to the markets, he released the OptionsMD Strategy Trading and Mentoring Program.
About OptionsMD.com: OptionsMD is the premier strategy and mentoring program for traders and investors who are tired of swinging for the fences and are looking for a means of developing consistent monthly income trading Options. The OptionsMD strategy and mentoring program is limited to a small group of participants and is open for enrollment only a few times per year. For more information on OptionsMD, please visit http://www.OptionsMD.com .
About Trading Concepts, Inc.: Trading Concepts is one of the oldest, most respected trading education companies in the world having mentored over 6,000 traders in forex, emini, options and stock trading. You can learn more about Trading Concepts at http://www.TradingConceptsInc.com
###