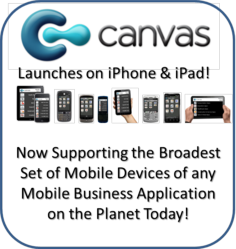 "With the launch of Canvas for iPhone & iPad, the Canvas platform now supports hundreds of millions of devices." James Quigley, CEO and Co-Founder Canvas
Reston, VA (PRWEB) May 17, 2011
Canvas announced today the release of their fast growing mobile business platform on iPhone and iPad increasing their supported devices that already included Android, Android Tablets, BlackBerry, Windows Phones, and Windows XP+ devices. Canvas now supports the broadest array of mobile and disconnected devices of any mobile application service focused on business.
Canvas is a platform in the cloud that anyone can use to build custom or find pre-built mobile business apps quickly and easily. Once built or downloaded from the Canvas App Store, subscriber Apps then work on all Canvas supported devices. Canvas apps typically replace a paper form or survey filled out on a clipboard, replacing these methods with an app on a mobile device.
Subscribers can easily replace their own custom forms with a Canvas Mobile App without the need of a software developer. In addition, Canvas customers can search the fast growing Canvas App Store where part numbered forms and familiar business processes from premiere names in the business solution space have already been converted to mobile apps.
"Businesses today are often faced with having to deploy and support a variety of different types of mobile devices. With the launch of Canvas for iPhone & iPad, the Canvas platform now supports hundreds of millions of deployed devices this number not including our support of Windows XP+ devices. With Canvas our subscribers have the immediate flexibility of having their apps run on everything from a ruggedized barcode scanning handhelds, off the shelf tablet computing devices or the most popular smartphones in the market." stated James Quigley, CEO and co-founder of Canvas.
About Canvas
Canvas makes it easy to publish data collection apps on smartphones and tablets as well as other devices such laptops, netbooks and bar code scanning devices. Canvas reduces paper consumption, redundant data entry, and excess processes for businesses and mobile professionals. The Canvas software service enables mobile professionals to collect information using their mobile devices, analyze that data on the Canvas website and share information across their business community. Canvas also offers the first mobile business app store of its kind allowing business users to find mobile applications that work on a wide variety of mobile devices, with every application being customizable by Canvas users. To date Canvas has automated over 100,000 manual processes/paper forms making it one of the fastest growing mobile app services for businesses. To learn more visit http://www.GoCanvas.com.
###