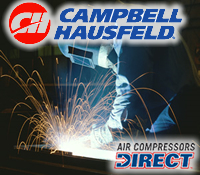 Campbell Hausfeld offers a limited 5-year warranty on all their welders so you can trust your unit will work for years
Bolingbrook, IL (PRWEB) May 17, 2011
Today Air Compressors Direct announced the addition of Campbell Hausfeld welders and welding accessories.
"We're happy to add the wide array of welders and accessories from a brand as reputable as Campbell Hausfeld," said Steve Robbins, resident product expert at AirCompressorsDirect.com. "Campbell Hausfeld offers a limited 5-year warranty on all their welders so you can trust your unit will work for years."
With the addition of the Campbell Hausfeld products, the arc welder and MIG welder product categories now have a wider offering.
Air Compressors Direct is an online superstore specializing exclusively in air compressors. The e-tailer now offers more than 475 models of air compressors from top brands such as Ingersoll-Rand, Quincy, Chicago Pneumatic & EMAX.
AirCompressorsDirect.com carries a wide variety of air compressors for all types of compressed air demands such as inflators, portable household units, single-stage, two-stage and rotary screw compressors.
Power Equipment Direct operates nine niche online superstores. In addition to AirCompressorsDirect.com, the Bolingbrook, IL-based company operates ElectricGeneratorsDirect.com, PressureWashersDirect.com, SnowBlowersDirect.com, MowersDirect.com, WaterPumpsDirect.com, SumpPumpsDirect.com, ChainSawsDirect.com and LogSplittersDirect.com
###