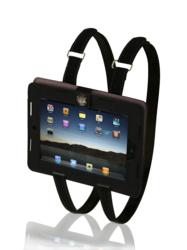 The innovative MyPadLife expands the ipad experience and keeps up with one's imagination
New York, NY (PRWEB) May 17, 2011
The founders of MyPadLife (http://www.mypadlife.com), Saad Alam and Lee Jokl, have released their unique and innovative iPad case on the crowd funding site, Kickstarter.com. The MyPadLife is an attractive yet protective case that allows iPad users to expand their Apple experience and secure their iPad in a number of settings that may have previously been unsafe or impossible, such as the gym or on the back of an airplane seat.
"As someone who is constantly on the move, but in need of frequent access to my iPad, I wanted to create a product that allowed users to comfortably use the iPad from practically anywhere without lots of hassle or tedious set-up," says Saad Alam, co-founder of MyPadLife. "It's perfect for business and leisure travelers, professionals in a variety of fields, gym enthusiasts, parents, golfers, even people who love to cook. It really has something for everyone."
The MyPadLife is constructed on a hard plastic shell and wrapped in a premium nylon material that provides a look of carbon fiber. The interior is a soft suede-like material to ensure the iPad is not only protected on the outside but also free from scratches on the inside. The most defining quality of the MyPadLife is that it is designed with a unique set of "notches" and "slits," along with 3 different sets of durable straps (included with purchase).
Fitness buffs can take their iPad onto the treadmill to get email done or finish the last episode of their favorite shows without fear of it falling and breaking. The MyPadLife helps travelers to enjoy exhausting journeys by letting them set up their own personal movie theater on the back of an airplane or train seats. Cooks can get their iPad off the counter where it is likely to get damaged and hang it from a cabinet where it is easy to see and out of harm's way.
"We're excited to have launched the MyPadLife on Kickstarter.com, and we know that anyone who enjoys using their iPad while staying active will benefit from this invention. The MyPadLife is unique in that it's a case that can finally keep up with your imagination. We're literally thinking of or hearing about new uses for it every day," says Alam.
Kickstarter.com is a popular website that allows users to pre-order products and support new and innovative projects like the MyPadLife. Projects on Kickstarter rely on supporters to "back" them (ie. preorder or pledge money) in order to meet funding goals and bring ideas to market.
The MyPadLife is currently available on Kickstarter.com (http://kck.st/ejmqQ7) for a special introductory price of $25, though it will retail for $29.99 starting in July, 2011.
Alam and Jokl recently left their jobs to start Citelighter.com, an online academic research tool that will empower students and help them write better quality papers in less time. They quickly created the MyPadLife to fulfill a market need and will use all profits to continue funding ongoing development for Citelighter.
###