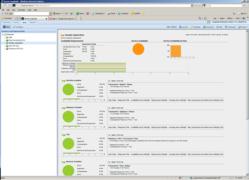 Today, comprehensive monitoring across the IT infrastructure is one of the most important requirements for business continuity and efficiency.
Braintree, MA (PRWEB) May 17, 2011
Heroix, a leading developer of application performance and network monitoring software, today introduced a new version of Heroix Longitude. The software can now be purchased and installed in less than 10 minutes by business users or IT staff. It is the most affordable monitoring software available, costing less than half of other products.
"Longitude has been very popular with IT staff for many years," explained Dick Levin, Heroix VP of Development. "We recognized that business users need to monitor IT resources on their own, so we redesigned Longitude to make it easy for non-technical people to install and use it without the assistance of IT staff."
The most important change in the software is the new Web 2.0 interface, which is intuitive to all and accessible from anywhere. It provides access to hundreds of operational metrics and performance reports, all out-of-the-box and ready to use.
One of the true advantages of Longitude is the simplicity with which users can purchase, download, install, and begin monitoring. There are no confusing, multiple add-ons to create inefficiencies, overlap, and problems.
"Over the years, our customers have told us that monitoring tools are most effective when they make complete operating system and application monitoring possible," continued Levin. "That's why we continue to evolve Longitude to meet the changing needs of businesses. Today, comprehensive monitoring across the IT infrastructure is one of the most important requirements for business continuity and efficiency."
"…failure to monitor one element leads to the failure of the complete system – and that if you don't manage everything you don't manage anything, since the next important issue can develop in blissful ignorance," noted Jean-Pierre Garbani, vice president and principal analyst at Forrester Research.*
Longitude monitors on a broad range of platforms (Microsoft Windows®, Red Hat®, SuSE®,
AIX®, HP-UX®, Solaris® and VMware®) and categories (OS, Web, database, messaging, network, infrastructure, and user and business metrics). The software provides comprehensive performance monitoring, immediate results, rapid deployment, ease-of-use, agentless architecture, and intuitive Web interface, in an affordable solution.
Heroix offers a free trial of Longitude at http://www.heroix.com. For more information and resources on application and network monitoring, visit Heroix's online resource library.
Pricing and Availability
Longitude is available now. Please visit Heroix or call 800-229-6500 or 781-848-1701. Pricing starts at $199 for five managed devices.
About Heroix
Heroix has provided best-of-breed application performance and network monitoring solutions for 25 years to companies like, Honeywell, Kaiser Permanente, Motorola, Tembec and Young Broadcasting. Heroix Longitude is the fastest, easiest-to-use, and most affordable application and network monitoring software available today. This proven, self-service solution optimizes the availability and performance of applications, databases, systems, and IT infrastructure across multiple platforms.
Heroix, Heroix Longitude, RoboMon, Heroix eQ, and their corresponding logos are registered trademarks of Heroix. All other company and product names mentioned are used only for identification purposes and may be trademarks or registered trademarks of their respective companies.
*"If You Don't Manage Everything, You Don't Manage Anything", http://blogs.forrester.com/jean_pierre_garbani, February 28, 2011
###