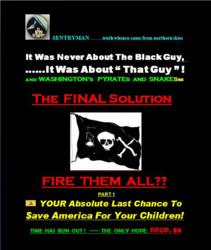 PROP. 86....YOUR Absolute Last Chance To $ave America For Your Children!....
Gun Barrel City, TX (PRWEB) May 17, 2011
It Was Never About The Black Guy, It Was About "That Guy"! And Washington's Pyrates and Snakesss. The Final Solution – Fire Them All??, a new nonfiction book by Everi Mann (Sentryman) is now available.
Sentryman clearly states in no uncertain terms that if anyone is unconcerned with mortgaging their grand-children's futures, this book is not for them. Additionally, if some able bodied individual is a permanent recipient of US Gov. largess and perfectly happy with American taxpayers footing the bills for the world's woes, read no more! They are already captured and have been taken hostage, notes Everi Mann.
"But, if you've finally (had it) with "both" parties of Government, tripled unemployment, an invasion over borders that our Constitution mandates be eliminated tonight ending illegals, drugs and sex trade, mandatory health-care yet some get exempted, the US extorted by foreign oil while 300 years of home-owned cheap energy is barred & surrendering our US sovereignty to green Cap-n-Tax, never any TORT reform, partisan courts, decimating our nuclear deterrent and demonizing our brave military, and if fed-up with Representatives bribing one/half the population for votes while ignoring the other one/half, (the serfs) paying the freight to unresponsive, complicit Legislators sitting on solid gold parachutes, agreeing on little yet ramming-through un-read bills Christmas week, your time is up! So, if you are finally ready to step-up to take your country back to save your families and yourselves, then this book may be your only salvation to make that happen with a last chance", states Sentryman.
"Every government degenerates when trusted to the rulers of the people alone. The people themselves are its only safe depositories." -Thomas Jefferson
"Do you want to know who you are? Don't ask. Act! Action will delineate and define you." -Thomas Jefferson
Sentryman continues: "Plus, more than a few workable ideas about putting America back to work on needed infrastructure, how to bring illegal aliens out of the shadows to become legal productive taxpaying US citizens, and how to help 100s of 1000s of families with their intentionally flooded uninsured farms, homes & businesses by the un-checked Eminent Domain powers-that-be, and all to be financed with monies already allocated courtesy of our president, just waiting to be pilfered by our campaigning politicians; Let's fix it ourselves!,"
Sentryman's intent is to offer simple direct solutions through "citizen's action" for a multitude of perennial politically-irresolvable "solvable problems" that infested the latter 20th century and are infecting the 21st, as Sentryman sees it.
Sentryman says he seeks to take action thru his book by challenging the reader/voter, and especially students to be vigilant and circumspect when addressing vital issues for the future of the United States; "We need statesmen today to "deal in ideals", to convince their colleagues to rise above "self" for the good of our nation to benefit all, but not at the expense of the few. Unchain Liberty; FREEDOM, the engine of free enterprise that raises all boats".
Sentryman strives to direct an unappreciated imperative beyond Beck, Limbaugh, Hannity and O'Reilly, as the author "Everi Mann", on a future Proposition (86) as the citizen's stake-in-hand to actually (eighty-six) contrary government policies, and finally liberate the US taxpayers to unleash the American economy once again.
It Was Never About The Black Guy, It Was About "That Guy"! And Washington's Pyrates and Snakesss. The Final Solution – Fire Them All?? is available for sale online in paper workbook size and on Kindle at Amazon.com and other channels.
http://www.amazon.com/s/ref=nb_sb_noss?url=search-alias%3Daps&field-keywords=Sentryman%2C++fire+them+all%3F%3F
Wholesale distribution: https://www.createspace.com//
About the Author: Sentryman, self-employed 45+ years, owned and operated four small businesses all but destroyed by the effects of the last 3 years. "Final Solution – Fire Them All??" is his first published book.
Media Contact - Sentryman Email: sentryman2010(at)aol(dot)com
###