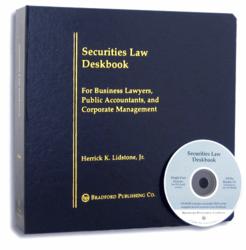 "This book is an excellent resource for anyone who wants to understand state and federal securities laws. Very readable. Use it as guidance to avoid regulatory problems."
-- Fred J. Joseph
Securities Commissioner, Co. Division of Securities
Denver, CO (PRWEB) May 19, 2011
"Securities Law Deskbook" by Herrick K. Lidstone, Jr. is the essential resource to help research securities regulations, achieve compliance with major federal securities acts, resolve litigation issues, and more. Updated annually, this book includes current law with detailed discussion, and expert analysis.
This book brings detailed information about the definition of a "security" (and surprising circumstances when a security is unexpectedly involved in a transaction), along with engaging in private offerings and public offerings of securities, and compliance with the applicable laws. Mr. Herrick Lidstone will help you recognize when you are involved in a securities transaction, comply with the registration process under the Securities Act of 1933 or find an exemption from registration (includes a form subscription agreement), and comply with state law (includes a form Blue Sky Memorandum for an exempt offering). Understand the risks of using the Internet in securities transactions, the state of the law when providing tax or other legal opinions, and your company's obligations under the Securities Exchange Act of 1934.
This deskbook also teaches the ethical issues in client representation, broker-dealer registration and the underwriting process, civil litigation, and arbitration under the federal securities laws. Lean the special SEC guidelines for oil and gas and real estate offerings, "unorthodox" securities transactions such as shelf registrations, mergers, and spin-offs, as well as the changes to investment adviser regulation as a result of the Dodd-Frank Wall Street Reform and Consumer Protection Act of 2010 ("Dodd-Frank Act"). This meticulously researched book contains hundreds of citations to securities rules, statutes, and cases. It is an essential tool for researching federal and state securities regulation, litigation, compliance issues, and much more.
About Bradford Publishing Co.
Founded in 1881, Bradford Publishing Company is Colorado's oldest and most trusted publisher of legal information, including legal forms, electronic legal forms, law books, and statutes. Located in Denver's historic LoDo district, Bradford Publishing provides legal forms and reference materials on a variety of legal topics for attorneys, other professionals, and consumers.
Our commitment to quality is the cornerstone of Bradford's business philosophy and we regularly update the content of our books and other publications, so you can rely on the most accurate and current information available.
# # #