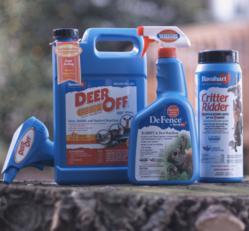 Our goal is to let people know that Havahart® offers the best repellent solutions to stop any animal problems
Lititz, PA (PRWEB) May 17, 2011
Deer Off® Rabbit, Squirrel, & Deer Repellent, is excited to announce the return of its nationally running TV commercial. Deer Off® has paired with some of the leading TV networks, including HGTV, DIY and TLC, to air their commercial. Running May through June during the peak of animal activity, Deer Off's "Kiss Your Deer Goodbye!" commercial is a humorous take on the destructive animal intruders that many homeowners encounter each year. The popular commercial features a couple who have a demanding deer and other neighborhood animals knocking on their front door to get them more food since they are out of the plants they love to eat.
"Although deer don't actually knock on the front door and make a request for homeowners to plant more rhododendron, many homeowners feel like their destructive animal intruders are using their yard like a buffet." says Lauren Eyer, Category Development associate for Havahart®, whose parent company, Woodstream Corporation, offers multiple solutions for wild animal and pest control. "While we're having fun with this commercial, the reality is that every year animals become more active in their foraging behavior, causing millions in damage to homeowner's properties each year. It's important to protect those areas with Deer Off® before the season begins so that you can save your plants from being lunch."
In addition to the commercial that will run on TV, Deer Off® has a version to view on their website, (http://deeroff.com). The commercial also runs in conjunction with the Deer Off® "Kiss Your Deer Goodbye!" Sweepstakes, where visitors can enter daily for a chance to win $500.
"Our goal is to let people know that Havahart® offers the best repellent solutions to stop any animal problems," said Eyer. "and not only are they powerful but all our animal repellents are eco-friendly and organic so homeowners can feel safe using them in their yards and gardens."
Trusted for years by landscaping professionals, Deer Off® is one of many repellents offered under the Havahart® brand name. For total yard protection from a variety of nuisance animals, visit http://www.havahart.com and learn more about Havahart's unique animal control solutions.
About Woodstream Corporation
Woodstream Corporation is a privately held company and a global manufacturer and marketer of branded rodent-control products, caring control products for pets and wildlife, natural solutions for home and garden, wild bird feeding products, and garden décor to consumers and the professional pest control market.
###