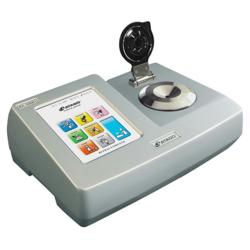 Vernon Hills, Ill. (PRWEB) May 17, 2011
Efficient new products for food scientists and processors will be on display at the Cole-Parmer booth during the 2011 IFT® Annual Meeting & Food Expo.
Attendees can view the breakthrough picoSpin™ Benchtop NMR Spectrometer from Cole-Parmer, the world's first miniature NMR spectrometer. The 45-MHz picoSpin spectrometer is affordable, portable, and easy to use. Similarly, the new Atago® Programmable Digital Refractometers with Touch Screen have a built-in thermomodule to ensure accuracy while also eliminating the need for a water bath circulator. Use this fully featured device to determine the refractive index of citrus, animal, or vegetable oils, and more. Take precise Brix measurements of fruit and concentrated juices, canned syrups, liquid sugars, and glucose with a Brix range of 0.00 to 100.00%.
Also on display: the Oakton® Benchtop pH 700 Series Meters, which offer a compact footprint more than 40% smaller than similar benchtop meters―saving valuable space in the research lab. Visit the booth to see their oversized LCDs, with optimal visibility even at a distance. Instruments for food quality and safety testing will also be available, including viscometers, thermometers, and more.
In addition, Sunday through Tuesday, one raffle winner will receive a New Orleans Gift Bag valued at more than $200. The bags include a variety of "survive and thrive in New Orleans" items including a cooler, water bottle, gift certificates, and more. When stopping by booth #8046, visitors can register to win.
For more information, call 800-323-4340 or visit ColeParmer.com/8550.
Cole-Parmer has been a leading global source of laboratory and industrial fluid handling products, instrumentation, equipment, and supplies since 1955. Our product lines, including popular brand names such as Masterflex®, Oakton®, and more, are sold through company-owned customer channel outlets and a strong network of international dealers. We also feature an ISO-17025-accredited metrology lab for instrument calibration and repair. Cole-Parmer responds with excellence to customer needs, and offers application expertise and technical support. For more information, contact Cole-Parmer, 625 East Bunker Court, Vernon Hills, IL 60061. In the US, call 800-323-4340. International customers, call 847-549-7600. Visit us at http://www.coleparmer.com.
###