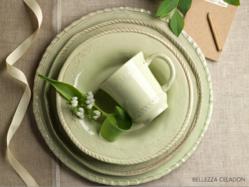 Hillsborough, NC (PRWEB) May 18, 2011
VIETRI, known for beautiful, handcrafted products and favored by lovers of Italy, brides and style editors alike, has created this event for brides and friends to enjoy. Discover why brides have chosen VIETRI's irresistibly Italian products for more than 25 years.
Stylish brides will not want to miss this event. Stores will be showcasing the top bridal looks of the season! Brides receive a gift for registering with VIETRI during the month of SIMPLY YOU, and guests will even receive a gift with any $200 purchase off a VIETRI registry! Brides will want to share the VIETRI experience with family and friends across the country. The buzz has begun on VIETRI's website, blog, Facebook and Twitter pages, and soon photographs of brides and their families and friends will be posted as well.
"VIETRI is beautiful, strong and simple to select to be JUST right for YOU! See new fashion-forward yet classic and functional VIETRI looks during our month-long bridal trunk show!"- VIETRI Founder, Frances Gravely
A new Wedding Registry Guide by VIETRI will be available at all participating stores during this event. A bride will use this incredible tool to guide her through creating a flawless registry.
VIETRI Simply You National Bridal Trunk Show begins on May 20th and continues until June 20th. Don't miss out on the excitement…this celebration is sure to be an enchanting event! Visit http://www.vietri.com for a list of stores and more details now!
For more information, contact Ellen Thompson, VIETRI Marketing and PR Coordinator, at 919.732.5933, ext. 101 or ethompson(at)vietri(dot)com.
###