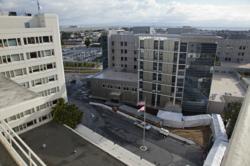 After more than 12 years and thousands of hours of work by hundreds of people, we have accomplished our vision of a magnificent new hospital for our community.
Burlingame, CA (PRWEB) May 17, 2011
It was a historical moment – for some people, once in a lifetime – when the new 241-bed Mills-Peninsula Medical Center opened on Sunday, May 15, 2011. The $630 million, 450,000-square-foot hospital is located in Burlingame, California at 1501 Trousdale Avenue.
Beginning at 7 a.m., patients receiving care at the existing hospital were moved, one by one, to the adjacent, new hospital until all were comfortably relocated in their brand new rooms.
One patient was moved every three minutes until all patients had been safely transferred to the new hospital. Every patient was accompanied by a registered nurse and at least two movers, as well as necessary monitors, ventilators and other medical equipment. Patients were transferred by gurney 200 feet down a canopied, red-carpeted path, which protected their privacy and comfort. The patient move was completed in about eight hours -- smoothly, safely and ahead of schedule.
Move Highlights:
1) Started at 7 a.m. and completed by 3 p.m.
2) First patient moved into his new Intensive Care Unit room at 7:08 a.m.
3) A total of 102 patients were transferred to new from old hospital
4) The first patient was admitted to the new hospital emergency room at 6:59 a.m.
5) There were six life-threatening admissions in the emergency room in first six hours.
6) The last baby was born in the old hospital at 9:12 a.m. (boy)
7) First baby born in the new hospital: at 10:05 a.m. (boy)
8) First cardiac catheterization conducted in the new hospital at 2 p.m.
9) First surgery in new hospital at 2:30 p.m.
"After more than 12 years and thousands of hours of work by hundreds of people, we have accomplished our vision of a magnificent new hospital for our community," said Mills-Peninsula Health Services Chief Executive Officer Bob Merwin. "I'm so proud of all of our staff for the calm and expert care they provided on this historic day. It was just incredible – smooth, efficient and compassionate attention for all those patients who made the short transfer trip from the old to new hospital."
The entire move was reported via the @MillsPeninsula Twitter channel using the #seeMPHS hashtag, and updates were posted on the Mills-Peninsula Health Services Facebook page.
Key new hospital features include:

Six-story (over one lower level), approximately 450,000-square foot general acute care hospital, including an unfinished floor for future expansion.
Base isolation – advanced earthquake safety technology– allows the building to withstand an 8.5 quake and remain functional. This hospital is located less then two miles from the San Andreas Fault.
Electronic patient charting and internet-based capabilities for advanced patient, physician, family communication
State-of-the-art patient lift technology in every room for safety
All private rooms – 241 beds
No recycled air
Total project cost = $630 million
Emergency Department enlarged by 42 percent to accommodate 50,000 visits per year
Family sleeping accommodations in all medical/surgical, obstetric, intensive care and neonatal intensive care rooms
Patient meals cooked to order and delivered at requested times
Four meditation and healing gardens and walking trails for patients, visitors, employees and neighbors
The new hospital is connected with an approximately 180,000-square foot office building with space for a new multi-specialty physician group, affiliated with the Palo Alto Medical Foundation. Two floors, or approximately 40 percent of the office building space, are for Mills-Peninsula administrative use.
Note to Media: The following video is available for use in your stories:
Link to broadcast-quality (silent) B-Roll of the move:
https://www.yousendit.com/download/MEtRa0ZjckliR0x2Wmc9PQ
Includes:
:00 – 1:21 Installation of new exterior signage
1:22 – 1:40 Command Center during patient move
1:41 – 4:41 Moving patients and equipment
4:42 – 5:17 Exterior, entry to Emergency Department
5:18 – 6:09 Main entry to new hospital
6:10 – 6:31 Nursing station awaiting patients, NICU
Opening footage with comments from executives and patient (1:25):
http://www.youtube.com/watch?v=MhjdFnL_1gc
###