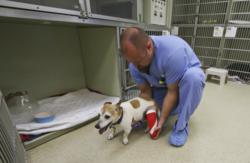 Los Angeles and Ontario, CA (PRWEB) May 18, 2011
Platt College is excited to partner with VCA Animal Hospitals, a leading provider of pet health care services in the United States, to offer its Associate of Science program in Veterinary Technology. The 18 month program, initially offered at the Alhambra campus of Platt College, will begin in July, 2011. The College plans to open the program at its Ontario campus later this year.
"We are pleased to add Veterinary Technology to Platt College's School of Medical Sciences offerings in Health Care Leadership, Respiratory Therapy, Diagnostic Medical Sonography, Medical Assisting, and Medical Administration. We believe the addition of this program helps cement our emerging reputation as a leader in health care education." commented David Liss, RVT, VTS (ECC), Program Director at Platt College's Alhambra campus. According to the U.S. Bureau of Labor Statistics 2010-11 Occupational Outlook Handbook, job opportunities for Vet Techs are growing, with employment expected to increase by about 36 percent from 2008 through 2018—faster than the average for all occupations. "We believe that the need for a quality Veterinary Technician training program is particularly strong in the greater Los Angeles area, where there are relatively few schools currently offering training in this area."
The program at Platt College will offer a year-round, multiple start schedule enabling students to complete their Veterinary Technology educational requirements in less than two years. General education and prerequisite courses are built directly into the program, forming the first two terms of a student's educational experience. Students who have already completed these prerequisites may be eligible to receive transfer credits enabling them to start directly in the veterinary technology core courses.
Core coursework in the program includes in-depth training in all skills required for the California state Registered Veterinary Technician examination. Specific classes include: veterinary terminology, medical calculations, anatomy and physiology, veterinary nursing procedures, diagnostic imaging, clinical pathology, surgical assistance, anesthesia, and animal nutrition.
A unique feature of the Platt College Veterinary Technology program is its emphasis on teaching critical non-technical skills that are essential for Veterinary Technicians in the 'real-world' clinical setting as part of a care-giving team. Students are familiarized with the fundamentals of business economics, to better understand the business decisions, tradeoffs, and considerations involved in the operation and management of a veterinary practice. Students also take a specific course to learn and refine their client communication and service skills.
The program culminates with a 15 week clinical externship, where students will apply the knowledge they have gained in the classroom in off-campus clinical settings. Students in the program will likely be placed at one of VCA's extensive network of more than 50 local Southern CA facilities for this critical part of their education. The partnership with VCA provides Platt College Veterinary Technology students with a unique opportunity to gain experience with a leading organization that has built its success on:

ensuring that patient care and quality medical outcomes are No. 1
attracting and retaining top-notch staff through competitive compensation, excellent benefits, and flexible, varied professional tracks that allow staff to choose their career path according to their individual interests.
"Our Veterinary Technology program was created to provide a top caliber educational experience, and we anticipate attracting top caliber students. While some graduates with an Associate of Science Degree may transition into clinical practice, others may work in alternative settings or continue their education to expand their career options," Liss continued. "The rewards of a Veterinary Technician include working with animals and people, enjoying a flexible work schedule in a variety of professional settings and broad career advancement opportunities that may include hospital management as well as supervisory roles as senior Veterinary Technicians.
"I have loved this career for over 12 years, and am ecstatic Platt College has invested in the future of this highly fulfilling profession," continued Liss. "Platt is dedicated to providing the highest caliber of education available, and we will strive to make this the premier veterinary technology program."
Established in 1985 and currently located in Los Angeles and Ontario, California Platt College also offers other career focused programs in its Medical, Legal, and Graphic Design schools. The College is nationally accredited by ACCSC, and financial aid is available to those who qualify. Flexible morning and evening classes at the College's Greater Los Angeles and Inland Empire campuses are offered. For more information please call (888) 80-PLATT (75288) or visit us at http://www.plattcollege.edu.
###