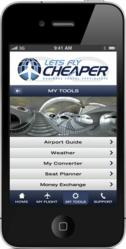 Las Vegas, Nevada (PRWEB) May 18, 2011
Stuffed with handy info, Lets Fly Cheaper's iPhone App offers real-time goodies:
o Travel Itinerary. After customers log in, they can access all their personal itinerary information in their app—flight details, gate info, travel time, etc.
o Flight Alerts. Customers receive updates on flight delays, gate changes or flight cancellations.
o Weather. Customers can check weather forecasts on their destinations.
o Airport Info. Customers can see all info and reviews from airport/business lounges.
o First-rate Customer Support. Stranded in an airport and can't call internationally? No problem—just press the Support button and the app will connect you directly to our 24/7 customer service representative.
o Money Exchange Portal. Customers can handily locate nearby currency exchanges—plus have access to current exchange rates.
"With this free iPhone App, Lets Fly Cheaper wants to make traveling easier for our customers. Especially in making a difference for time-crunched business travelers who like to know in advance their flight alerts, weather forecasts and even currency exchange info. This is a terrific app with handy real-time info for travelers on the go. But then, Lets Fly Cheaper is no stranger to unrivaled customer service as this is our main priority," says Ramon van Meer, a partner in Lets Fly Cheaper (with two locations in San Francisco and Las Vegas).
Customers simply and easily download this free iPhone App from LetsFlyCheaper.com
Lets Fly Cheaper is a business travel specialist selling business and first class tickets. We save customers up to 60% with our consolidator tickets. How so? That's because:

Lets Fly Cheap has unparalleled connections with the airlines. Which means HUGE savings for you that are worth thousands of dollars—especially for business travelers who fly more than the average traveler.
Second, we own numerous specialist travel tacks unavailable to the public including:
~ Consolidator flights
~ Special contract deals
~ Special upgrades
~ Short-leg and long-leg travel segments
~ Multiple airline travel deal
A low-fare specialist since 2008, Lets Fly Cheaper is proud of its Better Business Bureau's A-rating with zero complaints in the past 36 months. Lets Fly Cheaper is located in San Francisco and Las Vegas.
http://www.LetsFlyCheaper.com
1-800-240-0461
###