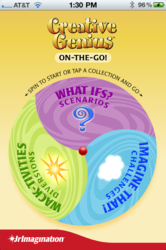 Los Angeles, CA (PRWEB) May 17, 2011
Jr Imagination™ announced today the availability of a new creative thinking app for iPhone and iPod touch, "Creative Genius On-the-Go!" This fun and convenient tool provides open-ended creativity for young minds with 150 quick challenges, diversions, and scenarios that can be played anytime, anywhere. The app contains short, written prompts offering activities that children can play independently, or with a friend or sibling. It's also a great opportunity for lively interaction between parents and their kids.
The app features three collections:

50 What Ifs? - Prompts the player to describe how the impossible may be possible
50 Imagine That! - Mind stretching challenges that boost brainpower and zap boredom
50 Wack-tivities - Silly and fun diversions to get the creative juices flowing
"All children love imaginative play," said Marjorie Sarnat, co-founder and chief creative force behind Jr Imagination. "I designed each of these activities knowing that under the guise of playing and having fun, kids could stretch their minds and boost their creative power." She added, "The great achievements we see all around us, and the innovations we use every day show us that creativity goes beyond artistic expression. With Creative Genius On-the-Go! parents have a tool that helps kids become problem solvers. It encourages them to think fluently and flexibly as they generate and develop original ideas."
Starting today, kids and parents are being introduced to Jr Imagination Creative Genius™ products with the release of this app. Creative Genius On-the-Go! is the first in a suite of products that aims to grow the creative potential in all children. Armed with creative thinking skills, children are better prepared to cope with life's challenges because they know how to problem-solve. Creative children are able to think for themselves, and to be independent learners and achievers throughout their lives.
For information about Jr Imagination and Creative Genius On-the-Go! visit Jr Imagination.
Pricing and Availability
Creative Genius On-the-Go! is available for iPhone and iPod touch at an introductory price of 99c. Visit the iTunes App Store at:
http://itunes.apple.com/app/creative-genius-on-the-go/id434743831?mt=8#
About Jr Imagination
Jr Imagination was co-founded by author, artist, and inventor, Marjorie Sarnat, and Marty Safir, creative director and designer. Marjorie has had a lifelong passion about creative thinking and the process of creativity. The Company's goal is to grow the creative potential in all children, and a tenet of the Company is that creative genius can blossom in any child, anywhere. "Think Outside The Tests"™ is its clarion call to educators and parents to provide children with activities that value creativity in order to grow a new generation of achievers. With Creative Genius™ products from Jr Imagination, the Company endeavors to be at the forefront of that effort.
###