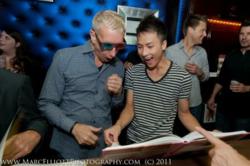 "The Brain Factory's 3D is the best I've ever seen." - Dian Hanson, celebrity TASCHEN editor/author
Los Angeles, CA (PRWEB) May 17, 2011
Q: What could be better than TASCHEN's beloved "Big Book" series? A: TASCHEN's "Big Books" in jaw-dropping 3D by The Brain Factory!
TASCHEN's first-ever 3D books were welcomed by fans at both launch parties, hosted at their flagship Beverly Hills store. TASCHEN and the publisher's celebrity editor/author, Dian Hanson, expect them to be the gift books of the year. Hugh Hefner's opinion: "What would people most like to see in 3D? Probably a naked lady."
"Our clients have been absolutely enthralled with the 3D versions of these books. They are top sellers already and a fantastic addition to our library. The Brain Factory has definitely brought 'Bigger is Better' to a completely new level," says Rob Hudson, TASCHEN's Beverly Hills store manager.
Playboy magazine gave The Brain Factory a shout-out, for creating the "visual wizardry" in The Big Book of Breasts 3D (June 2011 issue).
Jon Schnitzer, 3D director/producer and co-owner of The Brain Factory, was hand-picked from a global search by TASCHEN to do the 3D conversions for these historic art books. The Brain Factory converted 186 photos from the original best 2D sellers and 26 stunning new photos, for the 3D editions of these TASCHEN classics.
Dian Hanson explains: "Both Benedikt Taschen and I were very impressed with the subtlety of Jon's approach, how he and his team could create a 3D photo that was aesthetically pleasing even without the glasses - but plumped up into full 3-dimensional roundedness when viewed with the glasses, unlike other 3D that we'd seen..."
The Brain Factory specializes in immersive 3D and – in addition to leaping off the page – some of their conversions in the "Big Book" series appear to come to life.
To see a list of which pictures have 3D motion effects and celebrity photos from both launch parties, check out The Brain Factory Secret Guide to TASCHEN 3D at http://thebrainfactory.com/secret-guide-to-big-book-of-breasts-3d.html
Hundreds of people packed TASCHEN's Beverly Hills store, to see the 3D books, meet Dian Hanson and to experience the books and large-format archival 3D fine art prints created by The Brain Factory.
Party-goers included Deep Roy, Ron Jeremy, Kelly Madison, Chi Chi LaRue, Karrine Steffans-McCrary (best-selling author of "Confessions of a Video Vixen"), Jai Rodriguez (Queer Eye for the Straight Guy), singer Rebekah Starr, Raquel Castaneda (Showtime's The Real L Word), Jennifer Marsala ("Lie to Me"), Fiona Gubelmann (upcoming FX show "WILFRED"), Jessica Hall (TV personality and Playboy Radio Show host), Bambi Lashell (Playboy model) and Katerina Vanderham (Glamour model).
Buy the 3D versions of the "Big Books" direct from TASCHEN and see why Dian Hanson says of The Brain Factory: "Their 3D is the best I've ever seen."
Company:
The Brain Factory (http://www.thebrainfactory.com) is a 3D content production company, located in Los Angeles.
Contact:
Jon Schnitzer, co-owner The Brain Factory
Jon(at)TheBrainFactory(dot)com
# # #