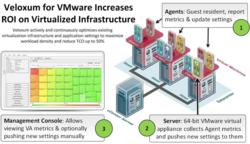 Chris and Casey will both play crucial roles during this time of explosive growth within the virtualization infrastructure optimization sector, Kevin Cornell, CEO of Veloxum
Scotts Valley, CA (PRWEB) May 17, 2011
Veloxum™ Corporation, a performance management company, today announced that Chris Cicchetti has been promoted to Vice President of Marketing in charge of Veloxum's global branding and marketing, and that Casey Swan has been named Vice President of Worldwide Sales.
Veloxum President, Kevin Cornell, promotes two top execs: Chris Cicchetti named Vice President of Marketing in charge of Veloxum's global branding and marketing and Casey Swan as Vice President of Worldwide Sales.
Both Cicchetti and Swan will report directly to Kevin Cornell, CEO of Veloxum.
Cicchetti will be responsible for the positioning of Veloxum's brand and products throughout the world, including marketing, marketing communications (mar-com), and sales support for their physical and virtual server optimization products, in addition to leading partner and reseller marketing.
Swan will be in charge of Veloxum's day-to-day marketplace execution and will serve as the primary sales liaison to Veloxum's direct sales force, as well as its growing world-wide network of value-added resellers (VARs) and distributors.
"This is an important and exciting time for Veloxum as we continue to grow and work closely with our advanced IT customers and reseller-distributors to introduce our Active Continuous Optimization (ACO) based products, which improve the performance and density of our customers' virtualized servers and virtual desktop environments, leading to a lower Total Cost of Ownership (TCO)," said Veloxum CEO Kevin Cornell. "This requires the type of world-class management team that we now have in place."
"Chris' strong marketing and technical background, and ability to communicate complex ideas in simple terms has brought the level of customer-focused insight and marketing capabilities to Veloxum that our customers and partners expect from a global technology leader. I will look to Casey, with his global enterprise sales experience and two decade-long record of consistent sales achievement, to lead our worldwide sales efforts. They will both play crucial roles during this time of explosive growth within the virtualization infrastructure optimization sector," concluded Cornell,
Prior to joining Veloxum, Cicchetti served as Marketing Director for the Finisar Corporation's Network Tools Group, which provided test, measurement, and monitoring equipment for the storage networking industry. While at Finisar, he also served as Director of Applications Development, managing the company's software engineering department, where he led product development and provided technical management. Cicchetti's twelve years of engineering, design, development, and marketing experience at Finisar provided him with a unique depth of computer and networking technical knowledge that he uses to help effectively communicate the benefits of computer optimization. Cicchetti holds a BS in Electrical Engineering from the University of Rochester, and an MS in Electrical Engineering, with concentration in Digital Signal Processing (DSP), from Worcester Polytechnic Institute.
Swan has 25 years of sales and global channel management at both start-ups and multinational organizations. He brings to Veloxum a strong background in consultative solutions selling, along with expertise in yield optimization, IT services and networking hardware/software. His senior management roles have included Sales Director at MKSI, Vice President of Worldwide Sales at Yield Dynamics (acquired by MKS Instruments) Vice President of Sales at Wavecrest Corporation, as well as Sales Director roles at Schlumberger/NPTest (acquired by Credence Systems) and Ascend Communications. Swan holds a BS in Business Management/Electrical Engineering from San Jose State University, and has participated in the Stanford Executive Program on Strategies and Leadership in Supply Chain.
ACO-powered Veloxum optimization for physical and virtualized server infrastructure
Veloxum's Active Continuous Optimization (ACO) process, which drives its 'Veloxum for Enterprise' software, uses patent-pending algorithms to calculate optimum server configuration settings that improve all aspects of both virtual and physical server performance. Veloxum's software automatically implements and logs these configurations, acting as a continuous 'tune-up' service to keep server configurations optimized, all without requiring any user intervention or a specialist's skills.
About Veloxum
Veloxum's founders started the company with the vision to apply active, continuous optimization to manage complex IT environments for optimum performance and utilization. Veloxum actively and continuously optimizes physical and virtual server infrastructure by optimizing operating system and application settings. It leverages the existing systems and infrastructure by tuning their various components within their manufacturer supported settings. The solution enables IT organizations to maximize performance, increase workload density, and minimize virtualization costs, dramatically reducing CAPEX and OPEX spending.
Customers such as Adecco, Baron Funds, Beeline, CGB Group, Deutsche Bank, the United States Department of Energy, Fortress, and ISI Financial, Maimonides, PPC, and The Washington Post are enjoying significant cost savings with Veloxum. Veloxum http://www.veloxum.com, headquartered in Scotts Valley, California, was founded in September, 2007.
Veloxum, iPTE and ACO are registered trademarks and/or trademarks of Veloxum Corporation in the United States and/or other jurisdictions. All other marks and names mentioned herein may be trademarks of their respective companies.
Media Contact:
Jeff Lettes, Global Media Strategy
jlettes(at)globalmediastrategy(dot)com
twitter: @svnewscomm
http://www.globalmediastrategy.com
###