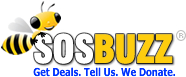 I want our new hires to share my vision. We at Sosbuzz are not talking about changing the world; we are doing it, with palpable results.
Los Angeles, CA (PRWEB) May 18, 2011
In less than five months, deals search engine Sosbuzz has amassed nearly 16,900 deals, and over 400,000 members. What everyone is "buzzing" about is not just that they can find deals even on service based businesses like dentists and contractors, but the fact that Sosbuzz donates 25% of its proceeds to causes selected by Sosbuzz members that report their purchases to Sosbuzz. What's more, Sosbuzz allows risk free advertising for all family friendly businesses, where businesses pay nothing up-front, no per click fees, no registration fees, no monthly fees, but need to pay only after they confirm receiving a sale from a Sosbuzz member.
"Our mission at Sosbuzz is three-fold. Get Sosbuzz members the best deals possible on products and services. Offer Sosbuzz merchants a 100% risk free opportunity to bring their products and services to market, which we do through our patent pending Pay-After-Confirmed-Sale model, and last but not least get donations to our member's causes," says Raffi Sosikian founder of Sosbuzz. "Sosbuzz members can find great deals, read and write reviews on Sosbuzz merchants, and by simply telling us about their purchases, get us to donate 25% of our proceeds to their favorite charity, school or religious organization. Everyone wins with Sosbuzz."
Sosbuzz is growing rapidly and is currently in the process of translating the Sosbuzz site from English to eight other languages.
"The hardware infrastructure at Sosbuzz can handle our expansion, but we are in need of human resources," says Sosikian. "I want our new hires to share my vision. We at Sosbuzz are not talking about changing the world; we are doing it, with palpable results. We want our team members to have a sense of satisfaction at the end of each workday, knowing they've played an integral role in helping Sosbuzz members accomplish their goals. I invite all talented, experienced individuals that are passionate about people to apply."
For a list of career opportunities at Sosbuzz, please visit http://www.sosbuzz.com/careers
About Sosbuzz:
Sosbuzz is a patent pending deals search engine for conscientious shoppers who want to save time and money as they shop for products and services. Sosbuzz members can find thousands of deals offered by Sosbuzz advertisers either by searching for them or via opt in email notifications. Sosbuzz is the first and only deals search engine to provide sellers the opportunity to advertise their products and services for free, and pay only after they confirm receiving a sale. This pay-after-confirmed-sale model renders the cost-per-click (CPC) advertising model used by search engines like Google, Yahoo and others obsolete, and allows Sosbuzz advertisers to charge less and offer better deals to Sosbuzz members. Sosbuzz donates 25% of the proceeds it collects from its advertisers, to the causes designated by Sosbuzz members when they report their purchases. Sosbuzz currently has over 950,000 causes listed in its database.
Press Contact:
press(at)sosbuzz(dot)com
###