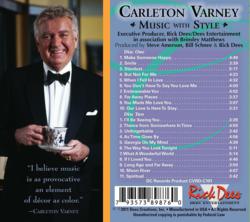 "Developing this album with my friend, Carlton Varney, has been more fun than I imagined! Every player is a gifted music and superstar ---the chemistry is amazing."
-Rick Dees
New York, NY and Los Angeles, CA (PRWEB) May 17, 2011
What if you gave a party and invited all of your favorite songs? That's what world-renown designer Carleton Varney and legendary music personality Rick Dees have done with the release of Music with Style, a double CD album of favorite musical compositions, all with original arrangements.
The 21 songs on Music with Style were personally chosen by Varney and Dees, and include some of the most beloved tunes in the American songbook. The CD brings together some of L.A.'s top musicians and arrangers to produce a collection that's a perfect companion to everything from a crowded party to a quiet night at home. The songs on Music With Style include time-honored American classics such as "Stardust," "Unforgettable," "As Time Goes By," and "The Way You Look Tonight." To learn more about and hear Music with Style, visit: http://musicwithstyle.net/
"Music is the universal language, and these songs have a very unique accent," says Rick Dees. "Developing this double album with my talented friend, Carleton Varney, has been more fun than I imagined. Every one of our 'DV Players' is a gifted music superstar and the chemistry is one of a kind."
Rick Dees has long had an ear for good music. The longtime comedic performer, entertainer, and radio personality hosts the internationally syndicated radio show The Rick Dees Weekly Top 40 Countdown. He is a People's Choice Award recipient, a Grammy-nominated performing artist, wrote two songs that appear in the film Saturday Night Fever, and performed the title song for the film Meatballs.
Carleton Varney brings an expert designer's eye to match his good friend Rick Dees' ear. Varney's keen eye and sense of style has helped produce music that not only sounds good but is a perfect "fit" for any environment. Varney is the legendary designer who has decorated for the likes of Joan Crawford, Errol Flynn, the Shah of Iran and President Jimmy Carter. His exclusive brand, launched via Dorothy Draper, harkens to a time when people dressed up for occasions and home entertaining was something that engaged all of the senses.
With the release of Music with Style, listeners will be treated to music that creates a carefully designed aural treatment for any environment. Like any good guest, the songs on "Music with Style" entertain and stimulate without taking over the room.
"I've wanted to do this project for a very long time," says Carleton Varney. "Hearing, seeing, feeling, touching, activating all of the senses area as important to me as color."
The album is engineered and mixed by Bill Schnee, the Grammy and Emmy award winning producer and engineer who he has hit gold or platinum for engineering artists such as Barbra Streisand, Rod Stewart, Neil Diamond, Carly Simon, Natalie Cole, Bette Midler, Barry Manilow, The Pointer Sisters, Amy Grant, and Whitney Houston, including Whitney's mega-single "I Will Always Love You." To learn more about and hear Music with Style, visit: http://musicwithstyle.net/
"The songs are some of the best from the great American songbook, and the musicianship on them is really spectacular," says Schnee. "We tried to make the music Carleton asked for versatile enough that you can sit down and seriously listen to it - or you can just put it on to set the mood. They are the perfect party albums - very vibey, stylish, and romantic - yet you're able to eat or talk over them and not feel intruded upon."
Music with Style is co-produced by veteran singer/composer and producer Steve Amerson, His voice has been heard on more than 160 feature films and countless commercials and television shows. Amerson also has been a featured soloist with major symphonies throughout the United States and abroad including performances at the Hollywood Bowl and Carnegie Hall.
Veteran pianist, composer, and vocalist Bill Cantos handles the arranging and keyboard duties on Music with Style. Cantos has toured with Phil Collins, Sergio Mendes, Diane Schuur, Kirk Whalum, Vikki Carr, Herb Alpert and many others. His songs have been recorded by dozens of artists including Brenda Russell, Ramsey Lewis, Flora Purim, Lea Salonga, and Maranatha Music. To learn more about and hear Music with Style, visit: http://musicwithstyle.net/
To learn more about and hear Music with Style, visit: http://musicwithstyle.net/
Music with Style will be presented on HSN on May 18 at 7 a.m. and 4 p.m. and May 19 at 9 a.m. and 5 p.m. (all times EDT). It is currently available at http://www.hsn.com for $19.95.
# # #