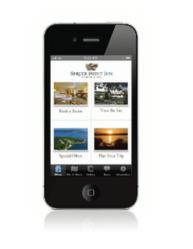 "The idea is to give our guests an easy, portable way to interact with us and the destination, using their smartphones, wherever they are," said Angelo DiGiulian, innkeeper for Spruce Point Inn
Boothbay Harbor, ME (PRWEB) May 17, 2011
Created by Spruce Point Inn's marketing partner, O'Rourke Hospitality Marketing, the Smartstay app for Spruce Point Inn is a free download at the iPhone store from the Travel category: Download the Spruce Point Inn app in the iTunes store here.
The Spruce Point Inn/Boothbay Harbor Smartstay guide is also available as a free Android download.
On opening the app, guests see four options that make a visit to Spruce Point Inn and Boothbay Harbor more enjoyable, including:
-- Book a Room – with a direct link to the inn's online reservations function
-- View the Inn – a gallery of great images that capture the essence of the Inn and its 2011 upgrade
-- Special Offers – exclusively for Smartstay adopters
-- Plan Your Trip – with insider tips on the best to see and do in Boothbay and Mid-coast Maine
In addition, Smartstay is a complete electronic pocket guide for the smartphone, with real-time news updates and an interactive map.
"The idea is to give our guests an easy, portable way to interact with us and the destination, using their smartphones, wherever they are," said Angelo DiGiulian, innkeeper for Spruce Point Inn. "When they're on the road, before they get here, they can see pictures of our guestrooms and amenities, make a reservation at the Inn, respond to spur-of-the-moment offers and see what else is happening in Boothbay Harbor during their stay. Once they're here, exploring Mid-coast Maine they can call us with one click on their iPhones or Androids, connect to other sites and attractions and make reservations, all with one handy electronic guide that happens to live on the smartphone they already have in their pocket."
The app is O'Rourke's Smartstay 2 product, the latest version of the leading mobile app for hotels, custom-designed for each hotel and destination in partnership with the property. Smartstay 2, an upgrade for the product created just last year, includes a customized welcome page to reflect the hotel brand, the ability to add completely new tabs, the integration of Google analytics, external RSS feeds, and multilingual functionality.
Tom O'Rourke, CEO and founder of O'Rourke Hospitality said, "O'Rourke Hospitality Marketing is based in Newburyport, Massachusetts and we especially enjoy working with New England hotels due to their proximity and our knowledge of what their guests are looking for when they visit New England. We were very excited that after choosing us to redesign and enhance their website, that Spruce Point Inn decided to adopt our Smartstay app, too, with custom-designed content specifically for their hotel."
About Spruce Point Inn
In operation for more than 100 years, Spruce Point Inn is a distinctive and historic vacation destination for travelers from all over the United States. Its relaxing facilities have long been a part of the summer community and a backdrop for delightful "oceanside memories made in Maine." Located in the seafaring village of Boothbay Harbor, Maine (an hour north of Portland) and situated on 57 acres of stunning oceanfront and sheltering pine forest, the Inn is a retreat of 56 modern rooms in eight lodges, 5 classic cottages, 9 Main Inn rooms and suites, and 4 townhouses. The convenient location, peaceful setting and spectacular coastal views have made the Inn a premier resort for families, reunions, weddings and business events. For reservations, call 800-553-0289
About O'Rourke Hospitality Marketing/Smartstay
O'Rourke Hospitality Marketing is an award-winning marketing firm that focuses exclusively on the Hospitality Industry and specializes in hotel website design and development, Internet marketing, SEO services, and hotel mobile marketing. O'Rourke Hospitality was founded in 2001, and stands out from other agencies due to its very high standards in website design and optimization, ability to generate results, full client dedication, and innovative products. O'Rourke launched the SmartstaySM mobile app for hotels, in March 2010.
###