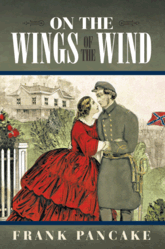 charlottesville, VA (PRWEB) May 18, 2011
April 12, 2011 marked the 150th anniversary of the beginning of the American Civil War. This period of turmoil was unlike anything that modern Americans have ever experienced. The new historical novel On the Wings of the Wind (published by WestBow Press) by Frank Pancake follows one young man who's thirst for knowledge leads him into the heart of the bloodiest chapter in American history.
As On the Wings of the Wind opens, readers are introduced to young Robbie Holcomb, a bright young man with a limitless future. As the son of Northern abolitionists, Robbie was raised to believe in freedom for everyone, regardless of color. While growing up in the small New York town of his birth, Robbie becomes fascinated with Thomas Jefferson. It is therefore no surprise that young Robbie decides to attend University of Virginia, the college founded by President Jefferson, himself. Mrs. Holcomb, however, is reticent to allow her son to attend university in the South. She finally relents and Robbie Holcomb sets out on a journey that will ultimately change his life in unimaginable ways.
Once in Charlottesville, Robbie begins his studies in earnest at 'Mr. Jefferson's University'. Robbie's first year at school coincides with one of the major pre-ambles to the Civil War; the John Brown Affair in what was then Harpers Ferry, Va. This foreboding event has ramifications far and wide, even in Robbie's life. However, Robbie soon has other issues to occupy his mind. As the political landscape becomes more and more heated, Robbie becomes more consumed by his feelings for Mollie K, his landlady's lovely daughter. Can Mollie and Robbie survive the bloody maelstrom to come?
On the Wings of the Wind skillfully combines fiction with historical fact to weave a fascinating tapestry sure to entice any fan of literature.
About the Author
Frank Pancake was born and raised in West Virginia. As a young man, he worked for the B&O Railroad and was drafted into the U.S. Army in 1950 at the dawn of the Korean War. Pancake served with the 25th Infantry in Korea, where he was wounded. After being discharged, he attended first Potomac State and then West Virginia University and earned a degree in business administration. He spent his career as a CPA for the IRS and then in the firm of Hantzmon Wiebel. Pancake and his wife have three grandchildren.
WestBow Press is a strategic self-publishing alliance of Thomas Nelson, the world's premier Christian publisher, and Author Solutions, Inc. (ASI)—the world leader in the fastest-growing segment of publishing. For more information, visit http://www.westbowpress.com.
###