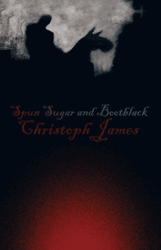 VICTORIA, British Columbia (PRWEB) May 18, 2011
The Scottish people are one of history's greatest survivors. They have survived Vikings, the civil war and even the mighty English, but can they survive the manifestation of evil itself? The new horror adventure novel Spun Sugar and Bootblack (published by Trafford Publishing) by Christoph James pits a small Scottish village against an intractable evil as old as time.
Life for Tamlyn Macleary, his family and his neighbors was quite simple. Their quiet town of Dunradin, Scotland lay just north of the border of Scotland and England. Life has remained much the same there for hundreds of years. The railway's skirting of the town has all but guaranteed that time will leave the quant hamlet untouched by the nineteenth century's dawning industrial age. That is, until the return of a prodigal son.
When Tamlyn's long lost uncle suddenly returns, the small town is cast into a tempest darker than any could have imagined. Fearghal has returned to Dunradin to deliver a dire warning. Dark, blood drinking creatures called Teriz, an evil from the deepest bowls of the Earth, have chosen to make sleepy Dunradin their new home. While none of the town's inhabitants have ever heard of such creatures, they refuse to be displaced and choose to defend their home, to the death if needs be.
Thus begins the adventure of Spun Sugar and Bootblack. This thriller is set in 1864, at the dawn of the Victorian era. It pits black creatures of pure evil against the tenacious and resilient people of the Scottish Lowlands.
Spun Sugar and Bootblack's cast of characters serve to create an adventure like no other. With the members of the clan Macleary, one of whom harbors a dark secret, a Highlander tasked with the destruction of the evil, subterranean creepers and the great Queen Victoria herself, Spun Sugar and Bootblack will keep readers mesmerized and terrified to its last, bone chilling page.
About the Author
Christoph James is a semi-retired Canadian and British citizen in his mid-fifties living on Vancouver Island, British Columbia. He has painted and written poetry for many years. James, newly a grandfather, was been inspired to leave a great adventure story behind for his descendants. While this is his first book, he is currently working on a sequel to Spun Sugar and Bootblack.
Trafford Publishing, an Author Solutions, Inc. author services provider, was the first company in the world to offer an "on-demand publishing service," and has led the independent publishing revolution since its establishment in 1995. For more information, visit http://www.trafford.com.
###