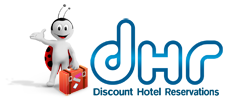 (PRWEB) May 18, 2011
Dhr.com is an online travel agency that was established as part of MetGlobal. Dhr.com ('Discount Hotel Reservations') shows how much it cares for its customers by consistently giving them low prices on hotels around the world. Whether customers want discount, budget, luxury or airport hotels, all can be found on Dhr.com and all come with a best rate guarantee. However, Dhr.com also regularly features special discounts on specially selected hotels in popular tourist destinations such as Amsterdam.
Amsterdam is the capital of the Netherlands, as well as its largest city. Famed for its beautiful canals and bridges, Amsterdam is the perfect place for lovers both young and old seeking a romantic break. Millions of art, history and culture lovers flock to the city each year to visit its 75 annual festivals, its cafes and the hundreds of museums catering to a variety of interests. These include the Van Gogh Museum, which holds more than 700 of the legendary artist's works, and the Anne Frank Museum, situated in the house in which she wrote her famous diary whilst in hiding during WWII. For those and other diverse attractions, Amsterdam is one of the rare cities that claim to be everything to everyone.
With the city offering its visitors so much, Dhr.com thinks it only right that they do the same for their customers by offering discounts on a wide range of Amsterdam hotels. Travelers seeking discount Amsterdam hotels with a high quality experience will love the Amstel Botel. A unique boat-hotel, it offers rooms on a canal amongst hip cafes, restaurants and galleries. For individuals desiring more traditional Amsterdam hotels, there's the Blue Western Blue Square Hotel. With Museum Square, home to the Van Gogh Museum and Rijksmuseum, close by, this Amsterdam hotel provides a perfect balance between discount and convenience. Tourists who demand luxury at a low cost never fail to adore the Moevenpick Hotel Amsterdam City Centre, one of the most esteemed hotels in Amsterdam. Located on the water's edge and within walking distance from the old center of Amsterdam and its Central Station.
Hotel deals like this can be found all year round on Dhr.com. They are the way Dhr.com shows it cares about its customers' budgets and the quality of their hotel experiences. The site also features city guides and additional travel information to ensure customers get the most out of their chosen destination.
For more details about these and many more discount Amsterdam hotels, visit Dhr.com.
###