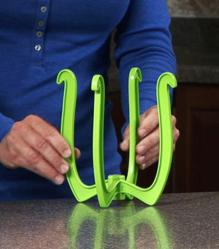 "It has helped me so much in my own home that I know once people begin using the product, they will want one for every room of the house!" said inventor Stacey Roberts
Sheridan, WY (PRWEB) May 19, 2011
Stacey Roberts decided she had enough of food spilling on her counter, bags falling over while being filled and plastic bags that just couldn't be opened, held and filled by any two-handed individual. Putting her thinking cap on, Stacey capitalized on the old adage, "Necessity is the mother of invention" and created the Bagwell, a unique device that creates, well, just what it says, a bag well.
Designed to hold a gallon-sized plastic storage bag, the one-piece, collapsible plastic unit spreads open with ease, stands alone on the counter and a plastic bag folds over the "hook" type arms creating a well for the bag to sit in, stretched wide open. No more spilled spaghetti, loose lettuce or rolling radishes, this creative unit makes filling bags easy and efficient, for one person to do all alone!
It took some tweaking with a marketing group called Enventys in Charlotte, NC which specializes in helping people get their inventions into the marketplace.
"They did some focus group work and marketing and we ended up with the final design, which was easier to manufacture and sturdier than our original idea," Roberts said.
Once the prototype was complete it was sent to a manufacturer. Now it can be purchased on line at http://www.thebagwell.com or through a variety of shops and supermarkets. The Roberts have recently entered into an aggressive marketing campaign and hope to have the Bagwell available nationwide in all types of retail stores by the end of the year.
Once the product was in the hands of consumers, people began offering creative ideas for the use of the Bagwell. Craft items, fishing supplies, (including just-cleaned fish or those waiting to be cleaned), hardware, toys, or a multitude of different items can be literally dumped into a plastic bag without the hazard of tumbling over and making another mess. With just a box of gallon-size storage bags and a month's supply of groceries, families can pre-assemble their meals to freeze and take advantage of those bulk-food sales. Campers love the Bagwell too, because plastic bags take up so much less space in a cooler or camper-size refrigerator than traditional plastic storage tubs which have to be washed and re-stored. With the Bagwell, items can be placed in plastic and once used, the bags can be tossed. Of course, for the frugal, many plastic bags can be reused and the Bagwell doesn't hurt, stretch or destroy the bags in any way. In fact, you can turn the Bagwell over and use it to hold a drying bag after it's washed!
Mothers love the Bagwell for storing all types of toy pieces that seem to find their way into the carpet to be located by bare feet in the middle of the night. Even a child can use the Bagwell when picking up their toys, crayons, art supplies or puzzles. Storage becomes one step simpler for any age. Baby supplies, soggy diapers, and baby food can be easily stored. Keep one in the car for a handy trash receptacle or storage of muddy shoes, dirty clothes or an extra change of pants when potty training.
Gardening becomes easier when dumping excess seeds, dirt or soil additives from one big container into a small one for storage. The Bagwell keeps the bag open and can be used, even while wearing gardening gloves!
Stacey Roberts has a short video attached to her website at http://www.thebagwell.com to show the variety of ways the product can be used. Additional sizes, colors and features of the product, including a quart-size unit are planned.
"We really want this to be a household item," Roberts said. "It has helped me so much in my own home that I know once people begin using the product, they will want one for every room of the house!" The Bagwell is priced affordably, making it a unique item that satisfies multiple needs for every family.
For more information, contact:
VeeAnn Woody
Bagwell
307-461-1592
veeannw(at)thebagwell(dot)com
###