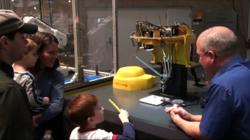 FANUC's delta robots open up an entire new facet to our business.
Marion, OH (PRWEB) May 24, 2011
The unique design and capabilities of FANUC Robotics' parallel-link robots have quickly earned the respect of RobotWorx, a FANUC Authorized System Integrator. So much so, the company is determined to spread the word about the benefits delta robots such as the FANUC M-1iA and M-3iA offer customers and integration companies.
"FANUC's delta robots open up an entire new facet to our business with high speed picking applications," RobotWorx President Jarrod Bichon said. "We're very excited about the integration possibilities of this new technology."
These lightweight speedy robots look nothing like the traditional industrial model. Instead of one articulated arm, delta-style robots such as the M-1iA and M-3iA are designed with multiple, slim, jointed legs that manipulate a single EOAT mounting plate. It is no surprise they are often referred to as spider robots. This design allows FANUC delta robots added flexibility, precision, and speed, while maintaining a compact footprint and light payload (ideal for pick and place).
Introduced by FANUC Robotics in 2009 and 2010 respectively, the M-1iA and M-3iA are relatively new arrivals to the robotics world. RobotWorx technicians have already had plenty of opportunities to work with the unique delta robots. In January of this year, RobotWorx presented an M-1iA robot at a local science museum's robotics event.
More recently, RobotWorx' technicians have been integrating a FANUC M-1iA system for a wire spring manufacturer. The robotic system will replace a repetitive manual process and offer a consistent, efficient solution to pick up miniscule springs and place them in packaging.
The FANUC M-1iA and M-3iA robots are built specifically for assembly, pick and place, and other material handling jobs. Integrated robotic vision systems allow them to easily locate, orient, and place objects with accuracy and care.
About RobotWorx:
RobotWorx specializes in building and integrating turnkey robotic workcells for different industrial uses and contexts. Established in 1992, the company has quickly become a leader in robotic integration, partnering with robot manufacturers FANUC, Motoman, and KUKA in order to provide the very best for its customers. For more information, visit http://www.robots.com or call RobotWorx at 740-383-8383.
###