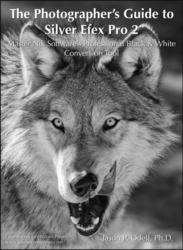 This is the missing manual for anyone who uses Silver Efex Pro 2.0
Colorado Springs, CO (PRWEB) May 18, 2011
Luminescence of Nature Press is pleased to announce the release of two new educational guides for black and white photography by photographer Jason P. Odell, Ph.D. The Photographer's Guide to Silver Efex Pro 2 is an all-new PDF guide for the latest version of Nik Software's professional black and white conversion plug-in. This "missing manual" for Silver Efex Pro 2 will walk photographers of all levels through the steps they need to create stunning monochrome images. The eBook download also includes a set of custom style presets that readers can install in their copy of Silver Efex Pro 2 to create classic black and white looks, including dramatic landscapes, toned portraits, and infrared film.
The Photographer's Guide to Silver Efex Pro 2 includes detailed screen shots and examples of every control in the plug-in, as well as how and why you use them. The guide also covers workflows for users of Photoshop, Lightroom, Aperture, and Nikon's Capture NX2. Photoshop users are treated to advanced examples for using Silver Efex Pro 2 in layers and as Smart Objects. The PDF eBook is user-printable and can be viewed on the Apple iPad when used in conjunction with iBooks or other compatible PDF readers for iOS.
In addition to the PDF manual, Dr. Odell has also produced a set of companion videos which reinforce the concepts described in the eBook. Mastering Silver Efex Pro 2.0 is presented in 720p High-Definition format for clarity. You'll be able to follow along with Dr. Odell as he walks you through each control in Silver Efex Pro 2 and then uses them to produce a variety of monochrome styles, like dramatic landscapes, infrared film, and antique photos.
The Photographer's Guide to Silver Efex Pro 2 is available from Luminescence of Nature Press together with the Mastering Silver Efex Pro 2 video companions via direct download.
About the Author
Jason P. Odell, Ph.D. is a Colorado-based photographer who enjoys outdoor and wildlife photography. His graduate experience in teaching led him to establish Luminescence of Nature Photography, where he publishes comprehensive guides to popular digital editing software tools, including Nikon's Capture NX2 and Nik Software's HDR Efex Pro.
###