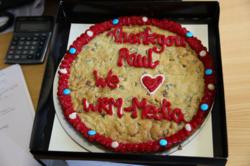 It is astonishing how quickly we have grown in the past year
(PRWEB) May 17, 2011
UK based email marketing firm WRM-Media, saw sales reach a record high in March after a successful start to 2011 in both the UK and Australia. In Australia alone, they exceeded sales forecasts by 140%. In their first year of trading, 2007-2008, WRM-Media generated £125,000 and in just one month this year, they generated £150,000 from marketing to their email data and are on target to reach £2 million in annual turnover.
This success is largely attributable to their increasing success in the Australian email marketing industry and the reputation they have built in the UK as a significant player in a largely London dominated industry. To celebrate their current success and reward their staff, WRM-Media founders Rob Billington and Paul Kemshell recently presented every member of their staff with an iPad2!
With email data in over 200 countries, WRM-Media are an international business with sales offices in London and Sydney, Australia. Just a year ago, they had 8 members of staff and having taken on another four staff in the last two weeks, their staff team currently stands at 21. The most recent additions include an affiliate manager, email campaigns assistant, IT administrator and an email systems manager.
Speaking of the industry, and WRM-Media's record sales, Paul Kemshell said, "It is astonishing how quickly we have grown in the past year, particularly when companies are only just regaining faith in their marketing budget after the recession. The difference with email marketing is that it is cheaper than other alternatives and therefore has been used effectively throughout difficult times."
To connect with WRM-Media visit them on Twitter, Facebook or Linkedin.
###