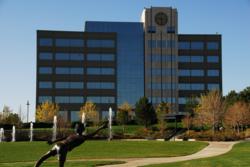 The goal of many Coloradans is to improve in their natural fitness sports. But by their early 40s, many notice a drop-off in endurance. That's when they come to see us for a customized program to get fit, stronger, energized again.
Las Vegas, NV (PRWEB) May 18, 2011
Mile-High city residents now have a unique opportunity to tap into breakthrough, proactive medical strategies shown to help patients become more fit, healthier, stronger and reinvigorated, announced Cenegenics® Medical Institute. The global age management medicine leader recently partnered with Cenegenics physician Dr. Julie McCallen to launch its 17th center: Cenegenics Denver. The new center will offer Cenegenics' innovative approach to better control the aging process as well as delay or prevent age-related disease.
Denver's highly active, outdoor-oriented culture is an ideal match for the renowned Cenegenics program, customized to a patient's needs. With the focus on natural fitness endeavors, Coloradans are more concerned with fitness capacity and endurance: what trails they hike, what mountains they climb, what slopes they ski. That's where Cenegenics steps in.
"The goal of many Coloradans is to improve in their natural fitness sports—hiking, biking, mountain climbing, skiing, kayaking, etc. But by their early 40s, many of them start to notice a drop-off in their endurance, such as the number of runs or complexity, challenging nature of the runs they can do. They can't ski nonstop for four hours any more, and they know something is definitely wrong. And that's when they come to see us," McCallen said.
After being on the Cenegenics program, per McCallen, many patients tell her they don't get tired skiing. Their friends are stopping early while they burn up the slopes until the lifts close.
That is a familiar story to McCallen and her husband Rod, who know firsthand how following a Cenegenics program and lifestyle can transform your life.
"Once I was on the program, I got leaner, regained my strength and felt more energized. Rod had always worked out, but by his early 50s, he started to have those slow-down aging symptoms—belly fat and loss of drive. Three weeks on the Cenegenics program, he began getting his strength and motivation back. Now that we're more fit, we're back to pursuing our passions for outdoor sports. In fact, we've broadened our parameters to South Africa, where we engage in the challenging, physically taxing bow-hunting sport, which we wouldn't have had the strength to do without being on our Cenegenics program," McCallen said.
McCallen's husband even redirected his career and works along side her at the center as Cenegenics Denver's nutrition/fitness counselor.
Cenegenics Denver is located at 8400 E. Crescent Parkway, in the thriving south metro area in a business center. It offers easy access, right off I-25, with beautiful mountain views, green belts, walkways and marshes.
For more information about Cenegenics, please visit their site. You can register for quick access to the online Healthy Aging Kit: informative Guide to Healthy Aging, Executive Summary and media excerpts.
For more information about Cenegenics' highly regarded, CME-accredited Physician Training & Certification in Age Management Medicine, please visit their nonprofit Cenegenics Education and Research Foundation site.
To schedule an interview, please contact Ann Castro, Cenegenics Director of Media Relations: 702.953.1588.
About Julie A. McCallen, MD Cenegenics Denver — Physician Partner
Dr. Julie A. McCallen is a board-certified family physician, Diplomate of the American Board of Family Medicine and member of the American Academy of Family Physicians. She earned her medical degree from the University of Pittsburgh School of Medicine, then completed a family medicine residency at the University of Wyoming. Dr. McCallen practiced emergency medicine as a civilian contractor for the US Air Force, followed by a family practice in southwestern Colorado. Her focus on preventive medicine led her to training/certification in age management medicine via the nonprofit Cenegenics Education and Research Foundation (CERF). In 2005, she became a Cenegenics physician affiliate and later partnered with Cenegenics to open Cenegenics Denver in 2011. Dr. McCallen also holds certifications in clinical densitometry (the International Society of Clinical Densitometry) and in aviation medicine (the Federal Aviation Administration). She is a member of the Age Management Medicine Group and the International Hormone Society.
About Cenegenics
Cenegenics® Medical Institute, recognized leading authority in age management medicine, has two centers in Las Vegas, Nevada, as well as centers in Charleston, South Carolina; Boca Raton, Florida; Dallas, Texas; Arlington, Texas; Atlanta, Georgia; Chicago, Illinois; Beverly Hills, California; Philadelphia, Pennsylvania; Washington, DC; New York City, NY; Tulsa, OK; Jacksonville, FL; Atlantic City, NJ; Houston,TX; Denver, CO. Additional centers are scheduled to open in other major metropolitan areas in the near future. With an established presence in the medical community, Cenegenics uses a proactive approach based on solid science and comprehensive evaluation. Their established protocols have been recognized as the next generation of medical science, capturing global attention. Cenegenics offers CME-accredited physician training and certification opportunities in age management medicine via the nonprofit Cenegenics Education and Research Foundation (CERF). Headquartered in Las Vegas, Cenegenics serves more than 20,000 patients worldwide—2,000 are physicians and their families.
###