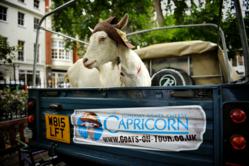 London, UK (PRWEB UK) 19 May 2011
Unadventurous and apathetic Brits are reaching adulthood without having tried the most basic of foods, according to a new study released by Capricorn goats cheese.
More than one in five adults have NEVER eaten asparagus, avocado or aubergine and one in fourteen has never tried standard veggies such as leeks and sprouts. What's more, over half have no interest in being more adventurous with the foods they eat and 2 in 5 won't encourage their kids to experiment either, according to the study by Capricorn Goat's Cheese.
A staggering 20% of Brits haven't eaten an olive, with an additional 45% having never tried goats cheese. In fact, one in ten Brits were over the age of 26 before trying everyday cheeses like mozzarella and brie. A staggering 10 per cent of people were aged 18 or over before trying broccoli.
68 per cent of adults have said there are certain foods they simply refuse to eat, such as liver, sprouts and sushi – with 42% of adults having never tried sushi.
Two thirds of parents admit to finding it hard to get their kids to eat foods which aren't in their comfort zone, with 13 per cent of children having never tried salmon and a quarter avoiding sardines. Alarmingly, 30% of kids started eating burgers and 75% started eating chips between the ages of 1- 2 years.
Dr Richard Woolfson, psychologist and spokesman for Capricorn Goats Cheese, said: ''It's surprising that so many Brits have not tried basic foods. Experimenting with food is part of growing up and until you try something it's impossible to tell whether you like it or not.
"It's particularly interesting that 36% of parents surveyed do not encourage their child to try the foods they themselves won't eat – this means parents are imposing their own preconceptions onto their children and denying them the opportunity to try different foods.
"Eating a varied diet is important for health as different foods contain a variety of vitamins and minerals, such as asparagus, blueberries and goats cheese, which are all listed as foods Brits are not eating. It is a shame that adults and parents are not eating certain types of food they have never even tried."
Goats on Tour:
The Capricorn Goats With Character are on a mission to educate the nation's 'Don't Try, Won't Try' eaters. They are leaving the grassy knolls of Somerset to spend a day at Soho Square, London, on Tuesday 17th May to encourage Brits, starting with London, to experiment with a more varied diet.
They have also started their very own blog to document their trip, plus they are currently hoofing around on social media – check out their daily 'bleating' at http://www.capricornblog.co.uk or follow them on Twitter - @EthelTheGoat, @BerylTheGoat, @DotTheGoat – for your chance to win free Capricorn Goats Cheese!
###