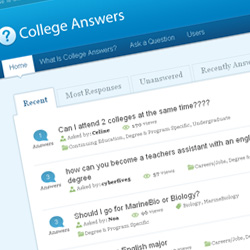 College Answers was built... to help add more transparency to this industry as a whole.
Lehi, UT (PRWEB) May 17, 2011
How does an online graduate degree compare to a traditional campus graduate degree? Is it possible to attend two colleges at once? Finding answers to questions about college can be frustrating and often impossible.
However, ClassesandCareers.com now has a question and answer interface called College Answers to delve into those difficult questions. With the help of experts and community members, College Answers strives to respond as clearly and accurately as possible to students at both online and traditional campuses.
"College Answers was built to help provide more clear and honest information for those looking to attend an online university and to help add more transparency to this industry as a whole," said Chase Sagum, creator of College Answers and channel manager of ClassesandCareers.com.
Sagum designed the forum to give well-researched feedback to people looking into the online education industry. Experts and community members keep tabs on the forum to ensure the information is as accurate as possible.
For example, Margo Smith works at ClassesandCareers.com and regularly responds to questions on the site. As she researches her answers, she takes the time to provide links and evidence to guide questioners on the right track.
"With most of the answers I Google search to be certain I am giving accurate information," Smith said. "Some items I answer with my own experience, and others I often find on our company blog."
By pooling experts, community members and curious users, ClassesandCareers.com hopes to put an end to the confusing misconceptions about online degrees and universities, while taking the time to answer general questions about college. The topics aren't restricted to statistical facts or questions; they cover everything from advice on picking a major and balancing personal life with studies.
For more information, visit the question and answer interface at answers.classesandcareers.com or email Carly Walker at info(at)classesandcareers(dot)com.
###