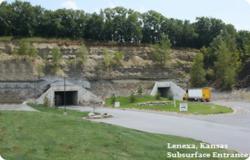 We believe that Meritex is a good long term fit as we continue to grow our business and our storage needs increase. Lon Wilkerson, Sr. - Service Pak
Lenexa, KS (PRWEB) May 18, 2011
Meritex announced three leases totaling 147,120 square feet of space at Meritex Lenexa Executive Park in Kansas City, an underground multi-tenant office/warehouse facility located in Lenexa, Kansas.
"We've been very busy leasing here at the Lenexa underground," said Lonnie Cannon, property/leasing manager at Meritex. "We've started the year 2011 very strong following a very successful 2010 where Meritex leased over 442,000 square feet of light manufacturing and warehouse space at Lenexa. Our customers keep telling us there is no better value than the underground."
Byrne Custom Woodworking has renewed its lease of 15,000 square feet. "I am very excited having recently renewed my lease, and continuing a great relationship we have had with Meritex over the past six years. With the help of Meritex, we have been able to formulate a plan that allows us to grow and accommodate the future space needs of Byrne Custom Woodworking," noted Ian Byrne, owner of Byrne Custom Woodworking. Byrne creates custom furniture, cabinets and window shutters in their facility at Meritex Lenexa Executive Park.
Ink Cycle has renewed its lease of 107,120 square feet where they sort and ship used recyclable ink cartridges. They have been a customer for nearly eight years, and have expanded numerous times. "We are happy Ink Cycle continues to call our Lenexa facility home, as they have been a great fit for our property," explained Lonnie Cannon.
Service Pak has leased 25,000 square feet of new space for their warehouse operation in the Meritex facility to help ease the congestion from their nearby packaging plant. "The location and proximity to our existing facility is great," said Lon Wilkerson, Sr., owner of Service Pak. He continued, "we started off month to month and now believe that Meritex is a good long term fit as we continue to grow our business and our storage needs increase."
Company Information: Meritex (http://www.meritex.com) is a private real estate investment and management company that acquires, develops, owns and operates commercial real estate, primarily institutional grade, multi-tenant industrial properties. The Company owns, leases, and manages 8.8 million square feet of commercial real estate in 7 markets in the U.S. Its portfolio consists of multi-tenant industrial, office and subsurface industrial properties. The Company's properties are located in Atlanta, Columbus, Denver, Houston, Indianapolis, Kansas City, and Minneapolis-St. Paul.
###