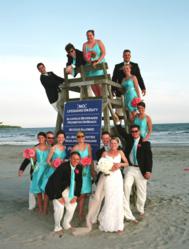 I'm proud to provide a showcase of our modern, sleek bridesmaid dresses on our customers of all sizes, instead of on models. Newly engaged brides will get the ultimate bridal inspiration and invaluable reference for their own weddings.
(PRWEB) May 18, 2011
Where can brides easily find inspiration for her Big Day?
Aria understands that the minute she is engaged, the soon-to-be-bride will feel the need to search the internet for images of real weddings to help with the preparation for the biggest day of her life. That is exactly why the Los Angeles based design and manufacturing company is re-launching its online wedding Album page, complete with its own blog.
The Aria wedding album offers an inspirational point of reference to brides and bridesmaids alike, plus showcases poignant bridesmaid designs from Aria.
With over 600 photographs of stylish real weddings featuring women of all sizes (and strictly no models), Aria has the largest album of wedding pictures amongst all wedding apparel competitors, offering eager brides and their bridesmaids the chance to see action shots and creative poses from a wide variety of weddings. Aria's album even offers ideas for the blushing bride to draw inspiration from the different themes, color schemes and dress designs.
Whether a bride ultimately purchase an Aria design or simply use the wedding album as a reference for her own special day, Aria can guarantee she won't leave disappointed, but will leave with a head full of ideas inspired by real people, real weddings and real style.
All Aria dresses are made in the USA.
View the Aria wedding album now at http://ariadress.com/WeddingAlbum.php
###