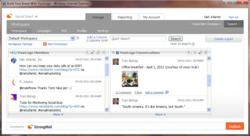 StrongMail Social Direct, Social Notes and multi-channel marketing make it possible to move beyond merely listening.
Salem, MA (PRWEB) May 18, 2011
Email marketing service provider Net Atlantic, Inc. today announced the availability of a new social media marketing platform that lets marketers at SMBs manage Facebook and Twitter posts, enable the sharing of email and website content in social media, and identify and engage key social influencers. Net Atlantic will be offering components of StrongMail® Social Studio™, which enables marketers to apply proven marketing principles to social media, including actionable performance metrics from the initial Tweet all the way to conversion. By offering StrongMail Social Direct and Social Notes, Net Atlantic is expanding its partnership with StrongMail, a leading provider of online marketing solutions for email and social media.
Social media marketers are starved for measurement and metrics―and many social media tools focus on traditional advertising metrics such as number of impressions, follows, and clicks. StrongMail's social media solutions are different. They include campaign management, sharing tools, and influence metrics that marketers can use to create viral campaigns targeted to the most active followers.
"Social media has changed the way marketers run campaigns, and their challenge is how to measure the impact of their social media efforts," said Ryan Deutsch, StrongMail's Vice President of Strategic Services. "StrongMail's social media solutions give marketers powerful engagement metrics that track social media's impact on their business' top and bottom lines."
In addition, StrongMail's social media solutions fully integrate with Net Atlantic's StrongMail On-Demand Edition, delivering a true multi-channel marketing platform. Marketers can track follower and subscriber activity to determine their reach and awareness levels, and create total engagement campaigns to drive revenue, subscriptions, and conversions.
"StrongMail Social Direct, Social Notes and multi-channel marketing make it possible to move beyond merely listening," said William Reich, President of Net Atlantic. "They let SMB marketers drive sales from social media and email channels, while tracking which tactics, strategies, and channels work and which ones don't."
StrongMail® Social Direct™ is a campaign management application for Facebook and Twitter, and Social Notes® is a social sharing tool for the web and email.
About StrongMail Systems, Inc.
StrongMail enables marketers to forge meaningful, profitable and long-lasting connections with their customers through email marketing and social media. Offering a comprehensive suite of technology and services, StrongMail takes a fundamentally different approach to traditional email service providers that offers many unique advantages to brands. StrongMail's dedicated online marketing solutions offer the lowest total cost of ownership of any enterprise email marketing solution and easily integrate with customer data sources to help marketers improve the performance of their email marketing campaigns. StrongMail's email and social CRM agency provides industry-leading strategic and creative services to help marketers listen, learn, engage and influence best customers. It's these differences that have led Fortune 2000 brands to switch to StrongMail. Learn more at http://www.strongmail.com.
About Net Atlantic
Net Atlantic, Inc. is an email marketing company that offers innovative technology and tools to drive sales for companies and organizations in a wide range of vertical industries. As an Email Service Provider (ESP), we help our clients, partners and affiliates to cost-effectively deploy email marketing solutions and improve ROI with email campaign deployment, email automation, CRM integration, and social media integration. To learn more about the Net Atlantic SaaS (software as a service) based solution, visit our website at http://www.netatlantic.com.
Copyright © 2011 Net Atlantic, Inc.
###