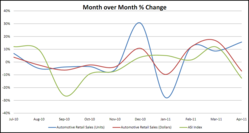 Consumer resistance has been building and we are concerned about the ongoing weakness in the economy with rising energy and food prices possible impact on future car sales.
Nashville,TN (PRWEB) May 18, 2011
Dataium's April's ASI (Auto Shopper Intensity) index turned downward on a month over month basis for the first time since October 2010. The index began to slow in February, then showed some signs of life in March, and reversed course in April. The ASI index measures overall automotive shopping activity across local dealership websites and automotive portals throughout the United States. The ASI Index, which weights nearly a dozen online auto shopping behaviors, saw declines specifically in lead volume and visitors. As the industry is heads into a traditionally strong selling season, this downward turn in demand is a particular ominous sign.
As reported last month, the SUV segment continued to show declines, however sedans also turned downward as interest in Hybrids continued to improve. The Toyota Prius showed strong gains with a 17% increase in its model's ASI index. This may be the lone bright spot among Japanese brands; as a group, the ASI index for this brand segment was down 14% over March. It is likely the Japanese OEMs were impacted by reductions in incentives and ongoing media coverage of supply constraints related to the tsunami and nuclear disasters. Domestic brands as a group also showed a decline of 5%. Finally, recent increases in used car prices have not slowed consumer interest in pre-owned vehicles as this segment's index increased nearly 2%. This may be driven by rising gas prices as consumer look for lower monthly payments to offset increasing fuel cost.
"As we have stated for a number of months now, consumer resistance has been building and we are concerned about the ongoing weakness in the economy with rising energy and food prices possible impact on future car sales", stated Eric Brown, CEO of Dataium. "We are hopeful this month's decline in consumer intensity is only an anomaly and continued improvement in employment and declines in fuel costs will help stabilize the market going forward."
To request complete access to Dataium's ASI predictive modeling tool on future consumer demand by make and model, trim level, segment, region, and market contact Dataium at http://www.dataium.com.
Through proprietary patented data collection and analytics, Dataium aggregates and measures billions of auto shopper events among millions of active auto shoppers across a network of diverse automotive websites. Dataium not only provides data and research on auto shopper behavior nationally, but by specific makes, models, vehicle segments, and specific markets as well. The national report is available for download at dataium.com/library. Dataium reports and dashboards are available on a subscription basis or may be customized for those who wish to access real-time updates or may have specific data requirements.
About Dataium, LLC
Dataium is the largest aggregator of Internet automotive shopping activity. The company collects, analyzes, and indexes billions of online automotive shopping events. Dataium supports patented data collection and reporting technology; VisiCogn® Collection Utility, VisiCogn® Knowledge Center, VisiCogn® INSITE, and is also known for its ASI™ index. For more information, visit http://www.dataium.com, email: info(at)dataium(dot)com, or call 877-896-DATA (3282).
# # #