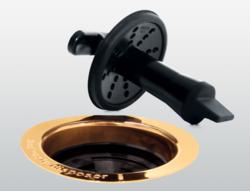 Don't Take the Risk of Letting a New Engagement Ring Fall in the Garbage Disposal
Elk Grove Village, IL (PRWEB) May 18, 2011
Anyone who's never installed a garbage disposal probably isn't completely sure how they really work. The obvious thought is that the food is chopped up by a spinning blade, but the reality is that food is pulverized until it is small enough to fit through tiny holes. A great way to dispose of unwanted food...but what if something else accidentally falls in? Like an engagement or wedding ring?
It can easily happen. Washing dishes, hands get soapy, ring slides right off and before it can be caught it's down the drain. Then there are a couple options – stick a hand down (extremely dangerous), try to fish the ring out with a hanger (ineffective), or unscrew the piping and clean out the drain (messy and time-consuming). The best solution is to never let it happen to begin with.
Disposal Guard, Inc. is announcing the availability of the DISPOSE-IT-GUARD®, a heavy duty stopper/strainer that is used in place of a garbage disposal stopper. But it's more than just a stopper – DISPOSE-IT-GUARD is a stopper, strainer, safety poker and scraper all in one. A simple twist of the uniquely designed T-handle opens or closes the strainer, while the plunger is designed to avoid all contact with the garbage disposal blades even while it's running. With DISPOSE-IT-GUARD, consumers can avoid the fight with the spouse, the cost of a new ring and the inconvenience of calling a plumber.
DISPOSE-IT-GUARD is 100% made in America and after two years of product testing, Disposal Guard Inc. and T.J. Dombrowski himself proudly and confidently stand behind their quality product. DISPOSE-IT-GUARD is now available to purchase on DisposalGuard.com, Amazon.com and select home and hardware stores nationwide.
MSRP $16.95
About Disposal Guard Inc:
Safety & Convenience Made Simple®. Disposal Guard Inc. is based in Elk Grove Village, IL. The DISPOSE-IT-GUARD all-in-one sink stopper, strainer, safety poker and the scraper is 100% manufactured in the US. For more information please visit http://www.DisposalGuard.com
A demonstration of DISPOSE-IT-GUARD is also available to view at http://youtu.be/7kb1BOdPqww
# # #