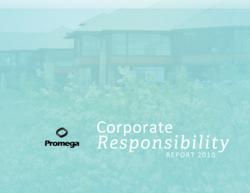 Madison, WI (PRWEB) May 18, 2011
Promega Corporation made significant progress in meeting and exceeding its 2012 environmental impact goals. The recently published Promega 2010 Corporate Responsibility Report, details all six 2012 goals and the achievement of reaching four of them by 2010. These accomplishments exceeded the 2012 targets for reducing:

Greenhouse gas emissions (tons)
Electricity usage (kWh)
Natural gas usage (therms)
Total paper usage (reams)
Global employee participation and facility modifications contributed to these early achievements. "Reduce, Reuse, and Recycle" programs were embraced by employees worldwide through improved recycling programs and efforts to eliminate actual waste. Additionally, locations worldwide have strived to reduce energy consumption and utilize renewable energy sources. This included over 250 photovoltaic panels installed on the corporate aviation's operation building in Madison, Wisconsin. This became one of the largest solar array systems in the state. The report continues to describe more corporate activities to reduce environmental impacts with:

High-efficiency lighting retrofits
Installation of more energy-efficient equipment
Increased travel via rail and public transportation
Use of video conferencing tools to reduce travel
Transition to environmentally-friendly, unbleached shipping boxes
The Helix™ On-Site Stocking program continues to conserve natural resources with the use of electronic inventory management and invoicing, replacing paper transactions and minimizing shipping waste. In 2010, Promega enhanced the program by purchasing carbon offsets for each Helix unit in operation around the globe.
The 2010 Corporate Responsibility Report explains the philosophy, goals and programs the company uses to align business practices with positive social and environmental outcomes. These programs include supporting the local community in which Promega operates and enhancing our employee wellness programs. This commitment to responsible corporate activities was reinforced in 2010 when Promega joined the United Nations Compact, pledging to follow ten principles in the areas of human rights, labor, the environment and anti-corruption. Having met the majority of the 2012 environmental goals, Promega is currently working to establish new goals for 2014.
The 2010 Corporate Responsibility Report can be downloaded at http://www.promega.com/responsibility.
Promega Corporation is a leader in providing innovative solutions and technical support to the life sciences industry. The company's 2,000 products enable scientists worldwide to advance their knowledge in genomics, proteomics, cellular analysis, molecular diagnostics and human identification. Founded in 1978, the company is headquartered in Madison, WI, USA with branches in 15 countries and over 50 global distributors. For more information about Promega, visit http://www.promega.com.
###