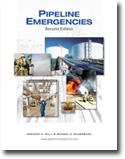 No other public safety organization is offering this kind of state-of-the-art training. PE2.0 is ground-breaking.
Washington, DC (PRWEB) May 19, 2011
The National Association of State Fire Marshals (NASFM), working with a cooperative agreement from the U.S. Department of Transportation's Pipeline and Hazardous Materials Safety Administration (PHMSA), will unveil Friday, May 20, 2011, an updated and customized second edition of the award-winning Pipeline Emergencies training curriculum at the 2011 International Hazardous Materials Response Teams Conference in Baltimore, MD.
This new Internet-based training program is the most innovative and comprehensive curriculum of its kind for first responders and pipeline industry safety personnel. The e-Book format incorporates videos and interactive graphics with simulations and textbook learning to provide a broad representation of pipeline operations and tactical response options. Inside the second edition is a complete curriculum including a textbook, DVD, training tools, presentation slides, and a facilitator's guide. All pieces are available online at no charge and can be completely customized to adapt to any training situation. PE2 is also available as iPhone and iPad applications.
Developed by a team of respected emergency response and industry experts, PE2 is the direct result of a cooperative partnership that brought together pipeline owners and operators, federal, state, and local regulators, trade associations, elected officials, and emergency responders. The dynamic group created PE2 to achieve a common goal: the safety of our country's first responders and the security of America's pipeline infrastructure. The updated curriculum covers both liquid and natural gas pipelines, and a range of emergencies including leaks, spills and fires.
"No other public safety organization has this type of training," beamed Jerry Rosendahl, President of NASFM and Minnesota's State Fire Marshal. "The first edition has already been distributed to 45,000 first responders in the United States. Imagine how many more firefighters we can train with everything being online!" Jim Narva, NASFM Executive Director and former Wyoming State Fire Marshal, added, "it is unprecedented, really. NASFM is truly honored to be the ones to give our country's firefighters state-of-the-art training tools to help them in an emergency."
These must-have training materials are free to the emergency response community and can be obtained by going directly to the program's dedicated website, http://www.pipelineemergencies.com. This curriculum can also be used by pipeline industry operators to fulfill federal guidelines requiring outreach and training of first responders in specific distribution areas. For more information about either training first responders or tailoring the program for the pipeline industry, contact NASFM by emailing info(at)firemarshals(dot)org or call 202-737-1226.
About NASFM
The National Association of State Fire Marshals, based in Washington, DC, includes the most senior fire officials in the United States and District of Columbia. The mission of NASFM is to protect life, property and the environment from fire and related hazards. NASFM works closely with federal agencies and the American public to offer concrete solutions to fire safety issues. http://www.firemarshals.org
About the curriculum authors
Hildebrand and Noll, Inc., working in partnership with Red Hat Publishing, specializes in emergency planning and response issues. Mike Hildebrand and Greg Noll have more than 40 years of experience in industry and government serving as firefighters, hazardous materials technicians, incident commanders, and instructors.
About PHMSA
The Pipeline and Hazardous Materials Safety Administration is a division of the United States Department of Transportation. The mission of PHMSA is to prevent emergencies and reduce the consequences (to people, the environment, and economic impacts) after a pipeline or hazmat failure has occurred. For more information about PHMSA visit http://www.phmsa.dot.gov.
# # #