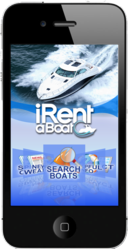 London, England (PRWEB) May 18, 2011
With summer fast approaching, the way to get onboard the right boat is with iRentaBoat.
The first ever iPhone application that allows people to search for rental boats and yacht charters from multiple owners, rental companies and brokers globally, all under one roof is iRentaBoat. There is none of the hassle of searching through different websites.
Whether travelers are by the sea, river or lakeside, use iRentaBoat to discover the opportunities available for exploring the environment by boat. iRentaBoat allows people to search granularly by the type and size of boat, the location and price. The App then carries out the hard work by linking people directly with the vendor in order to book.
The iRentaBoat application has been developed by a Riviera based, French owned companyLa Web Compagnie and managed by its Irish Director Jenny Caird from idea to delivery. iRentaBoat is now available to download at the iTunes Store: http://itunes.apple.com/qa/app/irentaboat/id420968375?mt=8
"The iPhone now accounts for 43% of all smartphone requests worldwide and iPhone users download the most applications worldwide. The advancements and continued growth of smartphone technology will drive related changes in mobile platforms, communication, e-Commerce, and more, all of which are bound to see changes in the way even small businesses function. The iRentaBoat application is in a strong position to confirm amongst consumers its place in the application market for boat rental and yacht charters. With continued innovation and improvements ongoing we are already researching and developing applications suitable for other phone devices," said Jenny Caird, Director:
Since the launch at the Antibes Yacht Show, there has been a great response throughout the Mediterranean and now iRentaBoat is looking to facitlitate requests WorldWide.
###