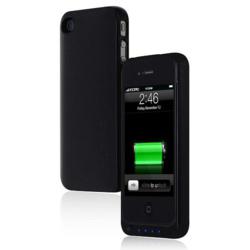 Irvine, CA (PRWEB) May 17, 2011
Incipio, a Southern California based award winning manufacturer of accessories for mobile devices, has announced its offGRID™ Battery Backup Case for the AT&T and Verizon iPhone 4. Weighing in at just two ounces with a thickness of six millimeters, the offGRID™ is the thinnest, lightest and most efficient iPhone 4 backup battery pack case available to date.
The offGRID™ Battery Backup Case nearly doubles the battery life of the iPhone 4. This innovative solution has an ultra-thin rechargeable battery built inside of a snug fitting, low-profile protective case for the iPhone 4 that offers power and protection all-in-one.
"The innovative offGRID™ was based off of our best selling ultra-thin feather® line and designed with minimal size in mind," explained Andy Fathollahi, Incipio President. "Not only is the battery itself thin, it is integrated into the case as opposed to one of the sides of the case. At two ounces and six millimeters thick, our customers will be pleased with the OffGRID™ solution that extends the battery life of an iPhone 4 without added weight or bulk."
The power/status button allows the user to determine the charge level and status quickly with one soft touch button and a series of blue LED lights. Simply touch and hold the button for two seconds to power on and touch again to check the amount of charge left in the offGRID™ Battery Backup Case. This on-the-go rechargeable backup battery case offers to double the user's talking, emailing, FaceTime™, gaming and surfing time without complication.
offGRID™ provides up to 1450mAh of capacity and is compatible with both the AT&T and Verizon iPhone 4. In keeping with its commitment to provide high quality products at tremendous value, Incipio has listed the offGRID™ at a suggested retail price of $69.99. The offGRID™ will be available at thousands of retail locations throughout the US this year as well as online at http://www.myincipio.com.
About Us: At Incipio we dream big and never settle for the status quo. Our sole focus is to provide customers with accessories that look as good as they function. Headquartered in Irvine, CA, we have people in London, Hong Kong, and India, allowing us to reach our customers and work on projects 24/7. Our dedicated staff does just that. At 140 strong, our team includes some of the most talented industrial and graphic designers, mechanical engineers, customer satisfaction fanatics and software developers around, all led by a world-class management team. Our shared love for mobile devices and accessories fuels our passion to create the best accessories on the planet. In the past 12 years, we have gone from operating out of a suburban garage to being widely recognized as one of the most innovative mobile accessory makers in the world. And we're just getting started…
# # #