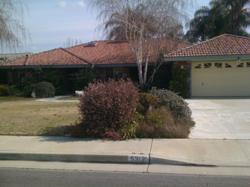 "Many of our properties are not eligible for bank financing. The bank has already lost money on the home so they are not looking to sink more money into it. This creates an opportunity for cash investors." Blaise Bryant
Bakersfield, CA (PRWEB) May 19, 2011
Brymus Capital, one of the leading bank-owned listing brokerages in California, announces its new listings of Bakersfield homes for sale for this summer. The new inventory is ideal for those who will be needing accommodations for the fall, such as families relocating to a better school district or to be closer to work.
Brymus Capital believes that finding the ideal home or starts with their website, hollywoodhillshomes.biz, where clients can choose from their varied selection of properties depending on their requirements and preferences.
Way before the start of summer, Brymus Capital releases its new listings for Bakersfield bank-owned houses to give every buyer ample time to go around and check out the houses. The company that has been in the business of providing affordable home sales in the Los Angeles, Orange County and Bakersfield metropolitan areas is committed to providing the best Bakersfield homes for their clients.
Homes on their list are ideal for families on a budget. Brymus Capital believes that having a nice, comfortable, yet affordable home is very important, especially for families who need to have the best environment for their security and enjoyment.
Also included in their listings are investments for those investors who are looking for opportunities throughout California. "Many of our properties are simply not in a condition where traditional bank financing is an option. Our client, the bank, has already lost money on the home so they are not looking to sink more money into it at this point. This creates an opportunity for cash buyers or investors to pick up a property to rehab, rent or resell."
People behind the company say, "Brymus Capital provides quality asset management services along with affordable home sales in the Los Angeles, Orange County, Bakersfield, Riverside and Bay Area metropolitan areas."
Remaining true to its commitment, the company believes in giving their clients the power of choice. Thus their listings always consist of new and varied selection of homes to meet every need.
Brymus Capital is committed to providing all the assistance that anyone would need in finding their ideal home. With their new summer listings, which highlight their affordable bank-owned houses they are confident that they'll be able to find the perfect home for each and every homebuyer. An option for financing the purchase of Brymus Capital bank-owned inventory is available through Nationstar and other lenders.
To know more about their listings and services, visit their website, http://www.hollywoodhillshomes.biz
Brymus Capital
(714) 210 6521
1851 E. First St Suite 850
Santa Ana, CA 92705
For more information contact Laura Hall of Brymus Capital (661) 333 3764.
Keywords: Bakersfield houses for sale, Bakersfield homes for sale, Bakersfield bank-owned homes, REO
###