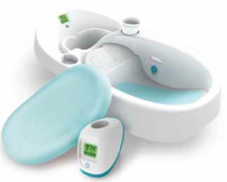 Instead of being quickly outgrown like most juvenile bath products, the Cleanwater Collection grows with the child.
Pittsburgh, PA (PRWEB) May 17, 2011
Yesterday, 4moms began a 30-day giveaway to celebrate the upcoming launch of its newest product, the Cleanwater Collection: a complete bathing solution for birth to 7+. The Collection will hit stores on June 15, and every day until that date 4moms will choose one lucky winner to receive the Collection when it launches. Winners will be among the first anywhere to get this new product, and hopefuls can enter daily. One winner has already been announced, and every day, 4moms will pick a new winner.
The Cleanwater Collection is a complete bathing solution for infants from birth through their toddler years. Each Collection includes one Cleanwater Infant Tub, one Digital Spout Cover, and one bath sponge. Both the Infant Tub and the Spout Cover feature color-coded digital thermometers that show the water temperature at a glance, making bath time easier for parents. The Infant Tub's unique design lets clean water flow in while dirty water flows out, and the bath sponge adds support for newborns. When children outgrow the Infant Tub and are ready for the adult bathtub, the Digital Spout Cover protects them from bumps and bruises on the faucet.
"This giveaway is a great opportunity for parents to take home what's not just a cool bath product, but a truly long-lived and useful one," says Rob Daley, CEO of 4moms. "Instead of being quickly outgrown like most juvenile bath products, the Cleanwater Collection grows with the child, so parents can use it for years. Our Cleanwater Infant Tub has always been popular with parents of newborns, and now that it's packaged with the Digital Spout Cover, bath time becomes easier for parents of both infants and older children."
The Cleanwater Collection will launch in stores nationwide on June 15 for $89.99. For more information on the Collection or to enter the giveaway, visit http://www.4moms.com/cleanwater_collection.
About 4moms
Frequently referred to as "the Apple of the juvenile industry," 4moms began with a focus group of five moms from Mt. Lebanon, PA, who inspired the company's name (but 4moms sounds better than 5moms, so one mother took the title "The Stealth Mom"). Their experience (they have fifteen kids between them; one has two, yes two! sets of twins) plus the expertise of a team of twenty-two engineers, researchers, and developers gives 4moms its innovative edge in the field of juvenile product design.
4moms is a brand of Thorley Industries, Inc., a 5-year-old company that develops and markets products for the $7.0 billion juvenile products industry. 4moms' award-winning products are available at more than 500 of the top specialty retailers nationwide as well as several national web retailers. For more specifics on all 4moms' products, visit their website at http://www.4moms.com.
###