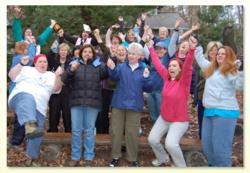 "We're Gonna dance Upon This Earth"
(PRWEB) May 19, 2011
When Anna Huthmaker was attempting to hike the 2,100 mile Appalachian Trail, she quickly realized that there were few women on the trail, and even fewer women like her; women with the heart of an adventurer, but the curves of a normal woman. After returning home, she questioned the women around her regarding their reluctance to explore the trails in their area. "I am nervous to hike by myself", "I feel like I cannot keep up with the men in our local co-ed groups", and "I don't think I really belong out there" are all words she heard. It is with that in mind that "Trail Dames-A Hiking Club For Women of a Curvy Nature" was born.
Four years, seven chapters, and 2,000 members later, Anna noticed another thing missing. There were several national hiking conferences for people to convene and share their love for the wild places of this nation, but there was nothing just for women. The growth of Trail Dames had shown that women of all ages, shapes and economic backgrounds were just waiting for the opportunity to hit the trails. Most of them came to Trail Dames with little or no hiking experience, but found themselves quickly falling in love with the smell of green and the feeling of accomplishing a goal, all accompanied by the laughter of women.
It is with that in mind that The Summit was born. The Summit is a three day, extensive conference focusing on all things trail related with an emphasis on women's hiking. Classes and seminars include the normal things one would expect to find at a conference, "Trailside Cooking", "Adventures in Lightweight Backpacking" and "Trekking the Grand Canyon". At the Summit, however, you will also find classes on "Solo Hiking for Women", "Hiking with Wildflowers", and "Peeing, Pooping and Periods on the Trail". There will even be classes in yoga and belly dancing.
The highlights of The Summit are keynote speakers Cindy Ross, author of "Scraping Heaven" and Melody Blaney, author of "A Journey of Friendship". They will be joined by guitarist Jan Benschop for a concert. There will also be a special screening of "Trail Angels-A Documentary". The movie celebrates the unique tradition of random kindness on hiking trails that is known as "Trail Magic". In addition to all of the above, The Trail Dames will be hosting an awards banquet in which they will be presenting three national awards, the Trail Dames Woman of the Year, the Trail Dames Advocate of the Year, and the Trail Dames Adventurer of the Year".
The primary attribute that sets the Summit apart is its lineup of speakers and clinicians. These are women who are not only experienced, but are both inspirational and motivational. They are eager to share their knowledge and experiences and the opportunity to learn from these women in a small, intimate setting is both unique and rare. For three days in Virginia this summer, women will come together for to laugh, learn and dream.
Women interested in learning more about Trail Dames and The Summit can visit the Trail Dames website at http://www.traildames.com. There you will find details on logistics, costs, and a link for further questions.
###