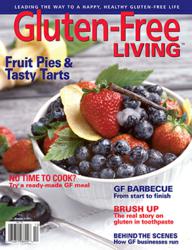 Hastings-On-Hudson, NY (PRWEB) May 18, 2011
Gluten-Free Living™(GFL), the nation's leading magazine for practical, reliable information about the gluten-free diet, provides a sneak peek at its upcoming issue and, in celebration of National Celiac Disease Awareness Month, offers two-for-one subscriptions or renewals.
Currently, a one-year subscription to Gluten-Free Living is $34; a two-year subscription is $54. The limited-time offer -- a two-year subscription for $34 -- is effective through May 31, 2011. Find the offer at the Gluten-Free Living website at http://bit.ly/ir4xmn.
"We're thrilled to be offering current and new subscribers a two-for-one deal in celebration of National Celiac Disease Awareness Month," says Kendall Egan, Director of Marketing for Gluten-Free Living. "Our new issue makes it a great time to subscribe because it celebrates the summer season with a variety of delicious gluten-free meal ideas, vacation tips, and insights on living gluten-free," she adds.
According to Egan, the new issue of Gluten-Free Living includes a story on everything -- from start-to-finish -- that hosts will need for planning gluten-free backyard barbecues including great recipes for the grill, sumptuous side dishes, a delicious dessert, and more.
Readers will also find a convenient and time-saving guide to ready-made gluten-free meals that are perfect for those occasions when there is little time to cook. The guide covers meal suggestions from new veggie burgers and burritos to pasta and chicken dishes.
The new Gluten-Free Living issue also tackles the question of whether or not those following a gluten-free diet need to concern themselves about gluten in toothpaste; readers may be surprised with the findings.
A look behind the scenes of four companies contending with the challenge of making gluten-free foods is also provided. The article describes how gluten-free food manufacturers cope with the expense of gluten-free ingredients, tackle tricky dough, and deal with the intricacies of getting their products onto supermarket shelves.
Gluten-Free Living Food Editor Jacqueline Mallorca shares her recipes for gluten-free summer pies, and explains how pie-making is much easier to make than we imagine. She provides scrumptious recipes for four pie crusts that roll out beautifully with a minimum of worry or elbow grease, and suggests mouth-watering recipes for a wide variety of pie fillings from sweet to savory.
An Irish doctor, who is an expert on celiac disease and oats, explains why those following a gluten-free diet can only eat a limited amount of specialty gluten-free oats. He also shares some insight on the latest research on oats and celiac disease.
Also, in an interview with Bob Levy, an expert on gluten-free travel, readers learn valuable tips on gluten-free travel. Finally, readers learn how to deal with family and friends who question the need for strict adherence to a gluten-free diet, and how to respond when told: "One bite won't hurt."
The new issue, Volume 11, #2, will ship to subscribers on May 31, 2011 and is expected to be on stores shelves by June 21, 2011.
TGIGF (Thank Goodness It's Gluten Free) Facebook Fridays
As a reminder, Gluten-Free Living is hosting TGIGF Facebook Fridays every Friday during May. Each week, it randomly selects a winner to receive a TGIGF Friday Fun Basket brimming with delicious gluten-free products such as Bob's Red Mill, Enjoy Life Foods, Mary's Gone Crackers, Surf Sweets and Pamela's Products among others; and a one year subscription to Gluten-Free Living magazine.
There are two ways to win:
-- "Like" Gluten-Free Living on its Facebook and complete this sentence: "I love Gluten-Free Living because…"
-- Follow Gluten-Free Living on Twitter and retweet the GFL blog post about TGIGF Facebook Fridays
About Gluten-Free Living™
Gluten-Free Living™ is the nation's leading magazine for practical, reliable information about the gluten-free diet. Founded in January 1996, Gluten-Free Living reaches more than 60,000 people through subscriptions and distribution to thousands of select mainstream grocery and natural foods stores, national drug stores, national book stores, national discount retailers, and thousands of independent health food stores throughout the U.S. and Canada. Ninety-five percent of its readers follow a gluten-free diet or are a parent of a child who follows the diet. Other readers include doctors, dietitians, nutritionists, and support group leaders who use Gluten-Free Living as a resource for their patients. For more information, vision http://www.glutenfreeliving.com.
# # #