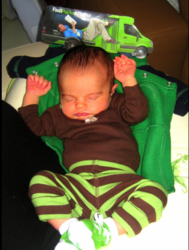 Raleigh, NC (PRWEB) May 18, 2011
Raleigh's off-site airport parking service FastPark & Relax has chosen eight winners for their recent photo contest. Travelers in Raleigh took photos in their travel destinations with a FastPark & Relax shuttle bus cutout. The most creative photographs won $250.
"We received photos from all over the world. Our travelers made picking a winner an extremely difficult decision," said Melanie Chavez, who oversees construction and branding for Fast Park. "This was really fun, not only for us, but our travelers seemed to enjoy the challenge as well."
The contest idea was a brainchild from the Fast Park marketing team and Sojern (a digital company that partners with major airlines). Susan Booth, Director of Marketing for Sojern said, "We were able to promote FastPark's shuttle bus promotion to over 200,000 Raleigh travelers over the course of the campaign. This provided them with visibility to key demographic groups at precise points in their journey. We believe this helped increase their response rate and put a fun twist on the popular 'Flat Stanley' concept."
The winning submissions can be found on the FastPark & Relax Facebook page. Winning photographers include: Bobbi Amato's Trey Parked and Relaxed Too, David Baccanari's FastPark at the Liberty Bell, Melissa Bernal's The Bean (pictured right), Denise Carman's Swim with the Fishes at Tampa Aquarium, Doug Carman's The Bus Visits Bok Tower Gardens, Michael Munger's Stanley in the Bahamas, and Donna White's Fast Park at the Final Four Houston.
About Us
The Fast Park family of airport parking solutions is headquartered in Cincinnati, Ohio. There are 16 Fast Park facilities in 12 markets throughout the country. Fast Park brands include FastPark & Relax, Airport Fast Park and Park Place. Fast Park companies provide customer service focused, airport parking, 24 hours per day, seven days per week, with instant shuttle service transporting travelers from their parking spot to their terminal. Facilities are located in Albuquerque, New Mexico; Austin, Texas; Baltimore, Maryland; Cincinnati, Ohio; Cleveland, Ohio; Houston, Texas; Memphis, Tennessee; Miami, Florida; Orlando, Florida; Milwaukee, Wisconsin; Raleigh, North Carolina; and Tucson, Arizona.
Please contact Julie M. Rose at 513.321.6632 or email Julie(at)mahanadvertising(dot)com with any additional questions.
###