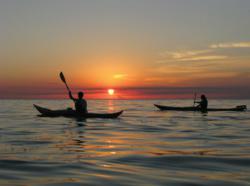 Start the day with Zumba on the Beach, take a Plein Air painting or photography class with lunch and a tour of the vineyard, and finish off the evening with a full moon paddle tour on Chautauqua Lake.
Chautauqua, NY (PRWEB) May 18, 2011
What would you like to learn today? That is a question posed by the Chautauqua County Visitors Bureau in an effort to learn more about what types of learning experiences visitors are looking for while traveling, on vacation, or just for leisure. Steeped in a 137-year old tradition of lifelong and vacation learning exemplified by Chautauqua Institution and outlined in the recent PBS special, Chautauqua: An American Tapestry, Chautauqua County in southwestern New York is launching a branding campaign to stake its claim as the world's premier destination for leisure learning. The region has long been a hub for prominent writers, scientists, businessmen, politicians, and teachers of all disciplines to come and share their expertise and information in a relaxing vacation setting.
New to Chautauqua County, the Chautauqua-in-June Learning Festival will be held June 3-23, 2011, optimizing leisure time between the festivities of Memorial Day Weekend and the opening of annual summer programming seasons at Chautauqua Institution and the Lily Dale Assembly. Targeting an adult, touring market, Chautauqua-in-June offers more than 50 workshops in gardening, sports and recreation, and creative and culinary arts held in both indoor and outdoor classrooms across Chautauqua County. Participants might start the day with Zumba on the Beach at the Sunset Bay Beach Club in Irving, take a Plein Air painting or photography class at Johnson Estate Winery with lunch and a tour of the vineyard, and finish off the evening with a full moon paddle tour on Chautauqua Lake with Evergreen Outfitters. A schedule of courses and program guide is available at the Chautauqua County Visitors Bureau's website.
Immediately following the Chautauqua-in-June festival, summer programming at Chautauqua Institution begins June 25th with two performances of the Mormon Tabernacle Choir. Founded in 1874, Chautauqua Institution offers classes for youth and adults during a nine-week season packed with more than 2000 events including a lecture series featuring distinguished speakers across a broad range of disciplines, a Special Studies program with over 300 weekly classes each season, and the Chautauqua Boys and Girls Club, one of the oldest day camps in America. The Institution's annual summer program welcomes international speakers, artists, musicians, and experts in many fields to provide lectures, shows, and workshops in topics ranging from domestic and foreign policy to science and ethics to sparking a culture of creativity and innovation.
Educational highlights of the 2011 Chautauqua Institution season include youth scholar workshops for students ages 10 to 14 with courses ranging from theater arts to the history of Chautauqua. For serious writers, morning and afternoon workshops with readings from published authors are available at the Chautauqua Writers' Center. A major highlight of the season happens in Week 3, July 10-16, when Chautauqua's Special Studies program offers master classes in partnership with the International Spy Museum while the morning lecture series explores "Technology, Espionage, and Alliances". Master classes will include such topics as "Disguise, Deception and Illusion: The Magic of CIA and Hollywood" and "Inside the KGB," as well as the five-day course "Espionage 101: Five Days of Spy."
On nearby Cassadaga Lake, the Lily Dale Assembly begins its 132nd summer programming season June 24th with a Native American Weekend. Traditions and ceremonies of the Haudenosaunee or "People of the Longhouse" commonly known as the Iroquois Confederacy will be highlighted. Daily activities at Lily Dale include meditation, healing, and message services.
The City of Jamestown, Chautauqua County's urban center, hosts learning opportunities through the Lucy-Desi Center for Comedy, Roger Tory Peterson Institute of Natural History, Robert H. Jackson Center for Justice, Fenton History Center, Jamestown Audubon Nature Center, and the Center for Continuing Education at Jamestown Community College.
In addition to intellectual and creative pursuits, recreational learning abounds in Chautauqua County from learning to sail or paddle on Chautauqua and Erie Lakes to learning to play golf at either of the only two 36-hole golf centers between Cleveland and Buffalo. An Orvis-endorsed fly fishing guide and charter captains readily await the opportunity to teach fishing in Steelhead Alley, Lake Erie's tributary streams, or on one of five county lakes.
Chautauqua County is located in the southwestern corner of New York State, within a short drive from Pittsburgh, Cleveland, Rochester, Buffalo, and Toronto, Ontario. For more information and a schedule of vacation learning events during Chautauqua in June as well as throughout the year, call 1-866-908-4569 or visit the Chautauqua County Visitors Bureau website at http://www.tourchautauqua.com.
###